More Drama as Akpabio reveals N'Assembly members take 60% of NDDC contracts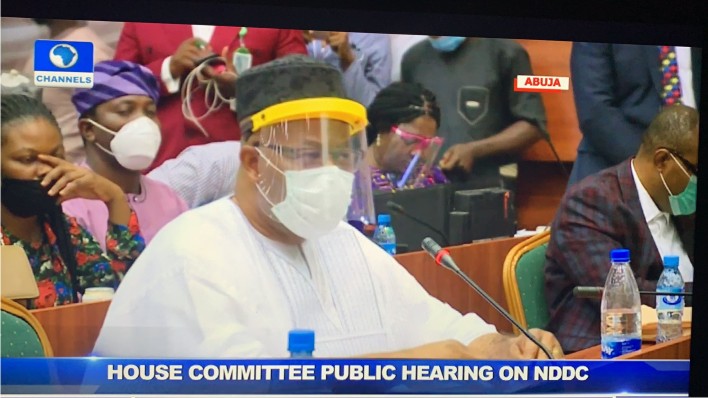 Senator Godswill Akpabio, the Minister of Niger Delta Affairs has accused members of the National Assembly of getting contracts from the Niger Delta Development Commission (NDDC).
The minister made this known on Monday during the House of Representatives public hearing on alleged mismanagement in the NDDC.
Senator Akpabio, a former Akwa Ibom State Governor, said 60% of NDDC contracts goes to lawmakers.
Recall that the Hon. Bunmi Tuni-Ojo, Chairman of the House Committee on Niger Delta, stepped aside from presiding over the affairs of investigative Committee after the fainted Acting managing director of the NDDC accused him of corruption and being on a revenge mission.
Addressing his colleagues and guests on Monday, Tunji-Ojo said he was stepping aside from presiding over the hearing to allow fair hearing and to protect his integrity.
Speaking earlier, Akpabio also claimed that the former Acting Managing Director of the NDDC Joy Nunieh was not qualified. He stated that Joy Nunieh does not have a National Youth Service Corps (NYSC) certificate.
He also revealed that the late Chief of Staff to President Muhammadu Buhari, Abba Kyari, asked him to sack the former NDDC boss.
The minister said the NDDC had over 300 bank accounts when he was appointed by President Buhari.
Akpabio who later got into a heated argument with the lawmakers accused the committee members of bullying.
Tunji-Ojo had asked the minister if the three major projects he had carried out had the approval of the Federal Executive Council.
Akpabio, who was interrupted while answering the question, said, "Mr Chairman, the condition, where we are in now, does not require bullying, with due respect."
However, Tunji-Ojo responded, "We are not bullying you, honourable minister. Answer the question directly. You know you are my leader. An uncommon leader."