I work for God for 40 years and He still made me cry – says pastor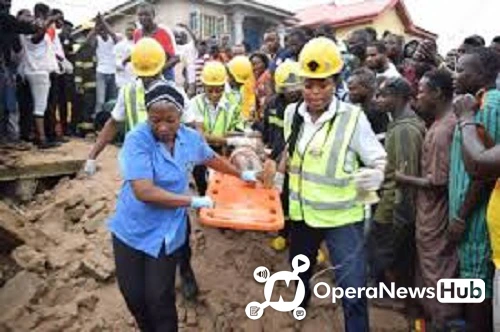 "How can I work for God for over forty years, serving Him diligently and with everything I have, and He still made me cry?"
Those were the words that kept coming out of the mouth Pastor Goddy Onwu, a member of the Deeper Life Bible Church, who lost his two-year-old daughter in a building that collapsed along Balogun Gafari Street in Ogudu, on Wednesday, June 16.
Pastor Onwu, a very popular street preacher who goes about Ogudu and its environs every morning to preach the word of God, said though he cannot blame God for what happened to him, he is still wondering why the Almighty should allow such.
"I know that my Bible tells me that in every situation, I should give thanks to God. But how can I possibly be thankful with this kind of calamity?
How can I keep praising Him after He allowed this to happen? I know nothing happens without His knowledge but He could have averted this.
I have served Him diligently, with everything I have, even denying myself a lot of comfort to do His work.
I have had to trek from Ojota to our church in Yaba whenever I did not have money for transport. I have been insulted by bus conductors whenever I tell them I do not have money to pay them.
I have gone hungry just by doing His work. I had to put my personal building on hold because of His work. I had to sell my car to raise money to do His work.
I have never failed God in anyway but did everything to please Him. So why would he allow this to happen to me?
We waited for our first child for 15 years and during that time, people mocked us, calling my wife a barren woman.
Friends and family members did everything they could to make me take a second wife or to get another woman pregnant to prove that the problem was not with me.
I remember how many times my wife cried and even told me to listen to my family but I kept faith with God, knowing that He would fulfil His promises at the right time.
And two years ago, He answered us when my wife got pregnant and gave birth to our daughter, Chiamaka, and I felt that our joy had been fulfilled.
We parked into the collapsed building late last year as I was putting finishing touches to our personal house in Ikorodu.
We did not even furnish this house because I knew that within a short while, we would move to the house.
Whenever I saw water falling down the mud, I always got worried but the landlord would tell me there was nothing to worry about as the mud had been there even before he built the house.
There was a day I told him that the government could forfeit the house if officials came for an inspection but he told me that he knew a lot of people in government and that no one dared to touch his house.
But see what has happened to me? See the calamity I have been thrown into? Not only did I lose a child I had long prayed for.
My wife's 10-year-old niece who was helping to take care of her also died in the incident. How would I tell my in-laws about her death? Won't they accuse me of using her for rituals? What would I do now?
Some of my pastors have been calling me to tell me to take heart and leave everything to God but how easy would that be? How do I take heart after God took away the most precious thing to me?
Just tell me. because I am confused. I don't believe that God is wicked but why would He just allow such a calamity to befall me after working and serving Him conscientiously for more than 40 years?"