Nigeria most educated family with nine professors and 7 other PhD holders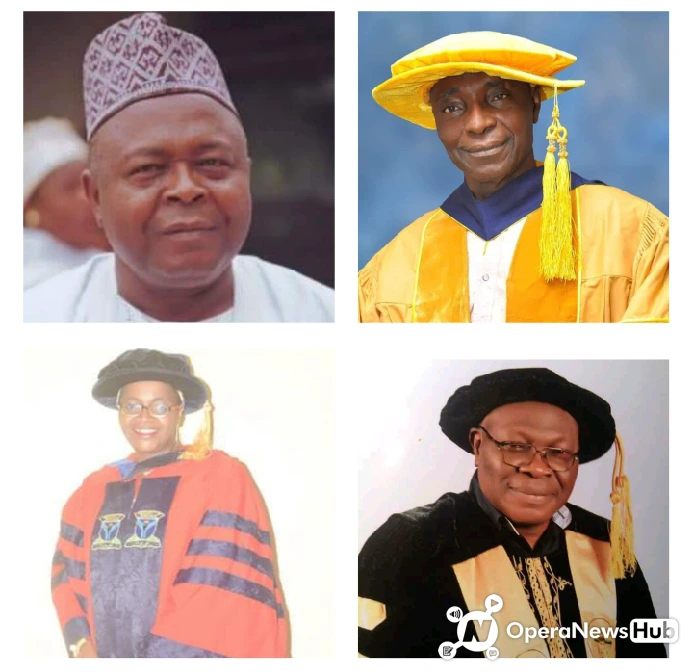 Nigerians can be included among the most intelligent people in the world, though they aren't necessarily the smartest but are motivated to do better than their neighbours because of their inherent competitiveness and an abject hatred of being failures. Nigerians can also be considered to be among the most educated people in the world who usually excel in academics. This assertion is definitely no lie and has been exemplified by a Nigerian family; the Amali family. The Amali Family is arguably the most educated Family in Nigeria and in Africa at large.
Now, let us talk about the Amali family. Why are they considered to be the most educated family in Nigeria.
The Amali family has nine professors and seven other PhD holders within its nuclear family group and of the nine professors, four of their wives are also professors. It is a family of professors where all the men want to be professors. They also want their wives to be professors and those who are yet to attain the height are making all efforts to be there. The distinction between this family and the Ijaiya family of Kwara State,another family of professors is that while the Amali professors are a distinct nuclear family, the Ijaiya's are an extended clan.
The Amali are from Upu village in Otukpo Local Government Area of Benue State, North central Nigeria. Their father, Mallam Aliyu Amali, was a highly disciplined peasant farmer in the village who despite his lack of education has done an enviable work in training his children and should be a strong example in how parents should raise their kids in the contemporary world.
The old man saw value in education and made up his mind that all his children must all further their education. He stopped all his children from taking jobs with their first school-leaving certificate and by the time the first son, Prof. Amali Snr. was schooling in Ibadan all the family rallied round him, the parent and the younger brothers would carry yams on their head to the town and deliver to those who will send them to him in school. Since then, they have sustained the practice of supporting every member of the family to get to the peak of their academic career.
Another tradition that is of topmost priority in the family is marrying an educated woman. This was based on the advice handed down to them by their father and this custom has become entrenched in the family that none of their wives has less than a masters degree . Today all their wives are Professors, Associate Professors and PhD Holders
First lets talk about the eldest professor
Prof. Shamsdeen Onyilokwu Amali who is the first professor of modern drama in Nigeria and whose wife Ebele Amali is a professor of economics is regarded as Professor of Professors. He has been a model to his brothers and has mentored numerous Idoma sons and daughters some of whom are now Professors too.
Professor S.O.O Amali
Prof. S.O Amali who is the first professor of Theatre Arts to become a Vice-Chancellor in Nigeria has been the Deputy Vice Chancellor of University of Jos as well as Vice Chancellor of two Nigerian universities, namely University of Ilorin and Nasarawa State University, Keffi (NSUK). Between 2005 and 2009 he was the Vice President of Association of African Universities (AAU), made of up 199 universities in 45 African countries. In addition to these, he was conferred the national merit award of the Order of the Federal Republic (OFR) by former President Olusegun Obasanjo.
Professor Ebele Amali
Professor Idris Amali, the second among the professors in the family is a renowned professor of Oral Literature who is known to have published the first Bibliography of Oral Poetry in Nigeria that has more than 2000 references. He is the current Deputy Vice Chancellor of Federal University, Lafia. His wife Halima Amali is an Associate professor.
Professor Idris Amali and his Wife
Another of the Amali's is Prof. Okwoli Amali who is a professor of Microbiology at the University of Agriculture, Makurdi Benue state, Nigeria. He has made remarkable researches that were published in several reputable national and international journals. Professor Okwoli is married to Professor Alache Amali
Professor Okwoli Amali
Other scholars from this family includes Dr. Amali,a nuclear physicist who is presently working for the US Government, Professors Emeli Amali, Otuofo Mohammed Amali, and other professors and doctorate degree holders whose wives are also academic giants.