Scandal rocks custom boss' marriage as wife's ex-boyfriend demands N9 million compensation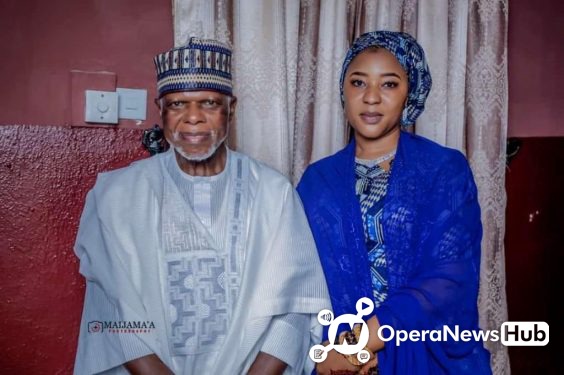 News filtered in yesterday May 30th, 2020, Saturday, that the no-nonsense Comptroller General of the Nigeria Customs Service, Colonel Hameed Ali (retd), had taken a new wife, Zainab Abdullahi Yahaya, at a low-key ceremony held in Kano State.
The Customs Boss who served as the military administrator of Kaduna State from 1996 to 1998, remarried nearly two years after losing his first wife Hajiya Hadiza Jummai Ali who died in Abuja on October 29, 2018. This marriage comes 2 years after the death of his first wife.
The first marriage is blessed with four children.
The wedding which held over the weekend was devoid of any fanfare because of the ravaging COVID-19 pandemic in the country.
However, a brewing scandal is in the works as a former boyfriend of the new wife has filed documents asking the new wife to return things bought for her as well as monetary gifts during the period of courtship.
The Ex-boyfriend, Zubairu Dalhatu Malamai had in a letter to Zainab through his lawyers, Buba Partners, described the custom's new wife as a "cheat".
According to the man, he has spent over N9m on her in the past years they have dated believing that they were going to get married and live as couples.
Malama had hinted that he had spent the money on Zainab as he opened shops for her, paid other rents and also for traveling expenses
The letter reads in part, "We are solicitors to Zubairu Dalhatu Malamai of No. 224 Durumin Zungura Kano Municipal, Kano State, hereinafter referred to as "our client" on whose instructions we write you.
"Our brief as disclosed to us, is that for the over three years you and our client have been in a relationship where he had invested so much in your life, future, and business even as you consistently promised to marry him, despite the fact that you knew deep down in your heart that you were deceiving our client but you allowed him to go ahead and spend his hard-earned money and resources on you while you made him believe that he was doing that to his future wife.
View pictures in App save up to 80% data.
The total amount the man asked the custom boss' wife to return stands at over N9 Million.
Born 15 January 1955, the current Customs CG previously served as Military Governor of Kaduna State from 1996 to 1998. After retirement, he became secretary of the Arewa Consultative Forum – a political and cultural association of leaders in Northern Nigeria befpre his appointment as Customs DG by president buhari 27th August 2015