Court orders DSS to Pay Man who was arrested for using SIM used by Buhari's daughter N10m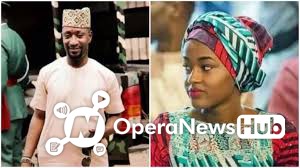 A federal High Court in Delta, after sitting on Thursday has ordered the Department of State Service ( DSS) to pay the sum of N10 million to Mr Anthony Okelie Accounts for illegally detention.
Mr Anthony was allegedly arrested and jailed for 10 weeks, this as been describe by the court as an illegal detention without charge.
Remember Mr Okolie waa arrested by the Department of state Service in July 2019 in Asaba for using a Sim card which once belong to the president daughter, Hanan Buhari.
DSS" The Department of State Services (DSS) has told a federal high court in Asaba, Delta state, that Anthony Okolie, the man arrested for using the previous phone line of President Muhammadu Buhari's daughter, was detained for 10 weeks because his offence threatened national security"
Okelie who had subsequently sued The Department of state (DSS), MTN and Hanah, after his release, demanded for a compensation of N500 million for violating his human rights, under the Nigeria constitution.
The sitting judge, who after proper view of the whole issue, Mr Justice Nnamdi Dimgba upheld Okolie's argument and awarded N10 million cost in his favour.