"They told me they need a white man for a movie", Nollywood actor gives full details of his kidnap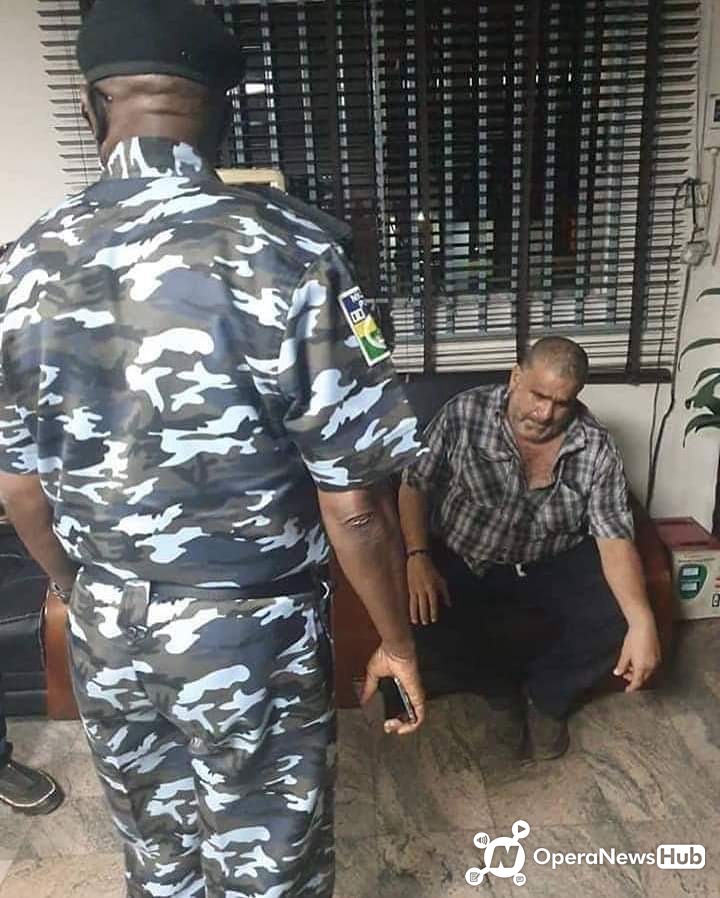 Mr Bilal Nosser aka Mr B, a Lebanese-born Nollywood actor on Saturday gave details of his ordeal in the hands of his kidnappers.
Mr Ben, who claimed he is into consultancy in hotel management as well as acting, said he was invited by one Clifford for an acting role.
Unknown to him, his prospective business partners had laid an ambush for him as he was kidnapped in his car at Owerri Airport junction and taken to an unknown location in Rivers State.
He said his kidnappers beat and threatened to cut him into pieces if he does not transfer all his money to them.
Along the way, Mr B claimed he ran from his kidnappers after they met a roadblock and he was rescued by youths of Egbelubi Ndashi in Etche local government area of Rivers State.
It was learnt that the youths of the community also nabbed of the kidnappers and handed him over to the Police.
Mr.B showing some of the injuries he received from his captors.
Mr B revealed details of what happened to him at the Rivers State Police headquarters:
What is your name?
I am popularly known as Mr B. B is for Bilal. I am professionally a consultant in Hotel Management and also a Comedian/Action. I also act in Nollywood Movies. I am based in Owerri. Originally, I am from Lebanon, but I bear an Ecowas passport, a Sierra Leonean.
What happened that you are here?
You know we are in the Holy Month of Ramadan. In the night, I don't sleep till morning prayer. In the morning, I woke up around 9am and I saw a message on my Watsapp, saying "Mr B please call me, I have business for you". The man's photo appeared and I called him with my MTN line. Who is this? He said "my name is Clifford, we have a new hotel for you to take over. We also have a new movie for you to feature, we need a whiteman".
He told me where I will meet him along Aba-Owerri road. When you are going to Aba from Owerri, before you reach the Owerri Airport junction. He told me there is Arab Contractors there and his driver will come and pick me to the hotel where we will sit, talk and negotiate. I reached the place, he gave me the driver's my number so I have the driver's name in my phone. I reached there I told him I am in front of Arab Contractors, like 2 minutes he just appeared. "Are you Mr B", he asked, I said yes, "He said enter let's go".
I stay with my Igbo brother in Owerri. They take care of me in Owerri. I stay in his house. It was his Venza car he gave me to drive to meet this people. The driver entered my car and starting driving to the place. After about 10-15 minutes, I asked him "Oga where you dey take me go na, me and Clifford no talk like that o". He said "Oga no worry we go reach very soon". Before you know we pass village by village, I didn't even know we have entered Rivers State. I started praying, we reached at one isolated area, I saw 7 people come from the inside. One of them carried one local pistol, they started hitting me with cutlass. See my jaw swollen, see my lips broken. The told me today I must transfer all my money to them in the ATM or they will cut me to pieces. I was shocked because in my 30 years in this country, I have never been attacked for once.
They pushed me to the back seat, the car has sensor, the driver does not know how to drive it, I showed him how to drive. We kept going, I continued to pray and I saw another village, luckily for me we reached at one place, there was a full palm tree on the road, so he cannot cross. So he has to stop the car. One of the kidnappers came down to take the palm tree out, I was praying then one boy came from the bush and said "don't take that palm tree, leave it". Then I had the chance to open the door, and I opened the door. There were three kidnappers behind and him (the driver). I came down and I started running, I ran into the village. People came from no where, they surrounded me. The kidnappers ran away with the car. They took the Venza of my Igbo friend. Luckily for me I have some complimentary cards in the car, which one of the vigilante people saw where they left the car in the bush. They took my ipad, phones, chains. The only number I crammed in my heard is my Rivers wife's number, who is based in Bayelsa. I told her to call my Igbo brother, she lost her phone so she didn't have it. I later reached my Igbo friend. The police later came and took very good care of me. Infact, I am impressed with the Police, I pray God to do more for you.