She had been used for rituals by her husband – daughter, family of woman who attempted suicide in Osogbo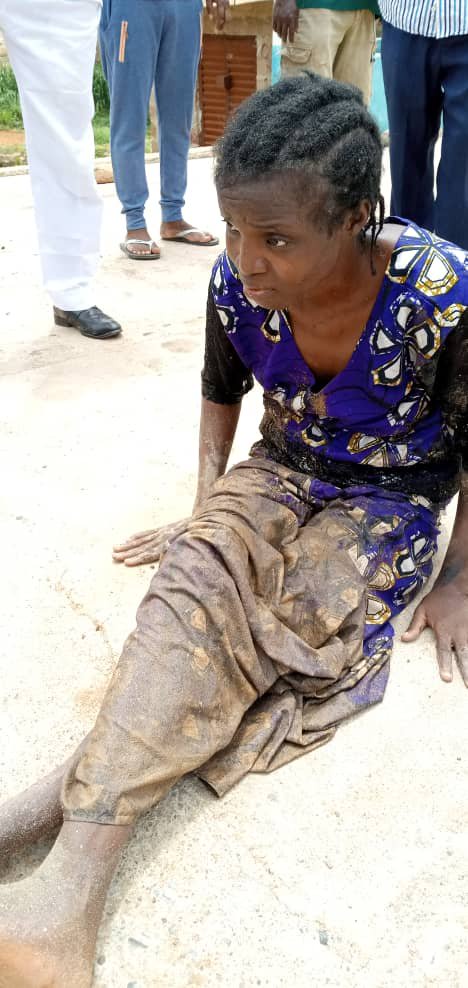 Kafayat Adetunji had on several occasions attempted to take her life. She was always stopped in the act by members of her family each time she tried.
Earlier on Wednesday, April 1, 2020 before going to jump into the Osun river, Adetunji who hailed from the Alaparo's Compound of Osogbo, the capital of the State of Osun had been stopped from taking her life with a knife she borrowed from her neighbour. One of her relatives, Mr.Mutiu Oladipupo collected the knife from her. She was pacified by her family members and they all thought everything was over until one of the residents of the area broke the news that the psychologically ill mother of three had attempted suicide by jumping into Osun river around Aregbesola Bus Stop, Gbodofon Area, Osogbo.
She was rescued by some people who saw her jumping into the river. The good Samaritans called Osun Ambulance Service, who went to carry Adetunji and took her to a hospital. Adetunji's reason of attempting to kill herself has always been that she was tired of living as she was unable to cater for her children.
The single mother of three has been living a hellish life after returning from her husband in Lagos with a mental disorder six years ago.
Kafayat, according to her elder sister, Serifat Ayantunji was impregnated by Yisa Adetunji in 2002. Kafayat and Adetunji later became husband and wife without any legal or traditional wedding.
Adetunji is from Kunle's Compound which is not far from Alaparo's Compound, where Kafayat hails from.
They were living happily in Osogbo where they gave birth to all their three children. In 2010,
Adetunji, a bricklayer, left Osogbo for Lagos in search of a greener pastures, according to Ayantunji.
In 2014, Adetunji invited his family over to join him in Lagos. Kafayat was happy and filled with joy that she would be reuniting with her heartthrob and be living together again. But Kafayat returned to Osogbo three months after with two of his children; Mariam and Bashit, while her first child remained with her husband.
Kafayat never told anyone why she came back so quickly. Her family had thought that the couple had a quarrel and hoped they would settle it among themselves. Some months later, she told her family that her husband had invited her back to Lagos to discuss on how to establish her on a business.
According to Ayantunji, Kafayat had not spent a month before her husband called his mother in-law to inform her that his wife was sick and needed to be taken back to Osogbo for treatment. She said they did not know the nature of her sickness until they got to Lagos and discover that she was mentally deranged.
Ayantunji, who is the first child of the family, said they selected some members of the family to go and bring Kafayat back to Osogbo, while her husband promised to come and join them in three days.
She said: "We did not know her husband was lying. He never showed up. This year made it the seventh year since we went to bring her back to Osogbo. Her husband has never called, let alone come to see how she is faring. We have been the one taking care of her and the second and last children. We have been to several spiritual places in search for healing. We are always told that Kafayat's husband, Adetunji had used her for rituals and that he must be available before she can be cured of the mental disorder she is suffering from.
"Nothing was wrong with my sister before she left for Lagos to meet her husband. She was very hale and hearty and a lively person. She returned to Lagos three months after she came back. When she first came back to Osogbo, we thought she had quarrel with her husband and she never told us anything. But we noticed she came back with two of her children, Mariam who was nine years old and Bashit a six year-old boy then. And she went back to Lagos again with the two children. Nothing was wrong with her. Everything that happened to her was in Lagos whenever she visited her husband.
"She has been unstable mentally since then. She might behave sane this hour and the next she would exhibit signs of insanity. As a result, she has found life uninteresting to her and had attempted suicide on several occasions. Mutiu Oladipupo has always been the one stopping her. He is the only one she listens to among everybody in the neighborhood. There was a time she went to the market to buy a new knife, it was this same Mutiu that saw her and collected it from her.
"She had borrowed knife from two different people at different periods in the neighbourhood with the intention of stabbing herself to death on the same day she jumped in to the water. We don't keep any sharp object within her reach because of her condition. It was her daughter that saw her with the first knife where she kept and took it away from there.
And Mutiu took the other knife from her
"Mutiu asked what she wanted to do with the knife and she said she was tired of living and wanted to die but she was pacified and everyone went their ways before somebody in the neighborhood came to inform us that he just read news that Kafayat was rescued after jumping into the river."
Dad Used My Mother For Ritual -Daughter
Mariam who was a nine-year-old girl when her mother visited her father in Lagos then accused her dad of using her mother for rituals.
The fifteen-year-old girl recalled that her mother had objected to her father's plan of using her brother, Basit for money ritual which made her to come back to Osogbo at the first instance.
She said her father lured her mother back to Lagos by telling her that he wanted to establish her on a business.
Mariam also recounted how a pastor came to her dad's apartment and asked her mother to be spitting into a white calabash.
The pastor, according to Mariam, also placed the calabash on her mother's head.
"Although, I was small then but I could recall that my mother and father had a serious quarrel because she never wanted Basit to be used for ritual and that was why she left Lagos and travelled back to Osogbo. He later called her back that she should come over to Lagos again so they could discuss the kind of business she was interested in.
"When we got back to Lagos, my father brought a pastor to the house. The pastor prayed for my mother and told her to spit into a calabash and it was later placed on her head. When it was night, they drove my mother away and her cloth was burnt. That was all I knew. But the following day, my dad called grandma that my mother was sick. I told my mother's family what I witnessed in Lagos when we returned to Osogbo. I suspect my dad had used her for ritual."
I Want My Daughter To Be Well -Mother
Kafayat's mother, 75- year-old Wosila corroborated Mariam's claim, saying that she was also told at different spiritual places that her daughter had been used for ritual by her husband.
She noted that Adetunji's disappearance since they brought his wife back to was enough suspicion that he had used her daughter for ritual.
Wosila, however, pleaded with the government and well- meaning Nigerians to come to her rescue.
She: "Kafayat never told us that they had issues on ritual the first time she came back from Lagos. If she had told me, I would have warned her of the danger of going back. Yisa just called to inform me that my daughter was sick. And my granddaughter never told me what happened on time. We were just taking care of her until somebody hinted us to seek spiritual means.
"They didn't tell us what was wrong; all they were saying was for us to bring her husband before she could be cured.
"I believe in what Mariam told us because there seems to be a correlation between what she saw then and what they told us at the various spiritual places where we took her to for cure.
"Besides, Mariam would not have said such thing at that age of hers if she did not see it. Their father has refused to release the first child to us. We believe he did not release the first child because he knows that he was old enough to give us true account of what happened to his mother."
When asked if they had reported Kafayat's health condition to her husband's family, she said: "I met with the head of the family who remained a father. I explained what happened to him and he promised to do something about it. He promised to help with everything he could to ensure Kafayat got well and provided for her needs and that of her children. Unfortunately, he died two weeks after. Yisa never showed up for his burial.
"Ever since her return, her feeding and that of her children have been on me. I am an old woman with no source of livelihood. Anytime I see her in the situation she is, I feel bad. I need my daughter to get well. I want the government and well-meaning Nigerians to help me. Nobody knows her husband's whereabouts again not even his father before his death.
As at the time of filing this report, Kafayat has reportedly been confined to the Ladoke Akintola University of Technology Teaching Hospital, Osogbo where she is currently receiving treatment.