Meet the world's shortest man and his cute wife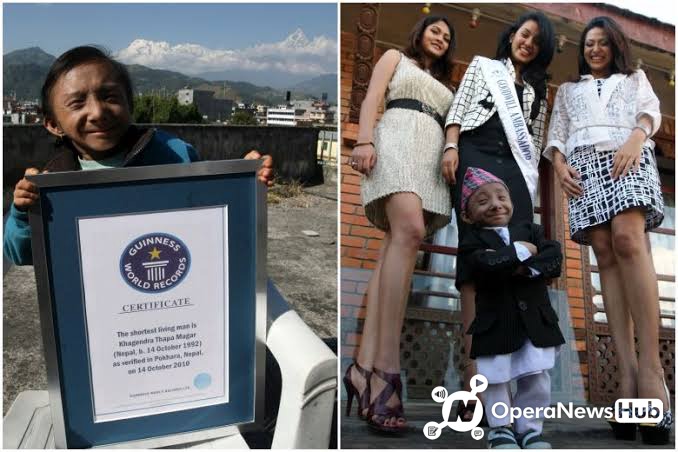 Religion will call it the mighty work of a supreme being, science will call it genes and genetics. Looking at the world, there are different species, class and origins of so many animals.
Human beings according to science are classified into the animal kingdom but seen as a more higher animal. Religion will tell you God created every being on earth in his own image and in different varieties, both white and black, tall and short.
Which ever it is, human beings are just unique, some are extremely tall, some averagely, some normal while some are extremely short.
Chandra Bahudur Dangi (30 November 1939- 3 September 2015) was the shortest man in recorded history for whom there is no refutable evidence. He was measuring 54.6cm (1ft 9½ in). He was a primordial dwarf. He broke the record of Gul Mohammed (1957-1997) whose height was 57cm (1ft 10cm).
Dangi being the worlds shortest man came to limelight when a wood contractor saw him in his village in the Dang district of Nepal. Dangi was awarded the title of being the shortest adult human ever recorded after his height was measured in February 2012. This gave him inclusion in the Guinness book of world records.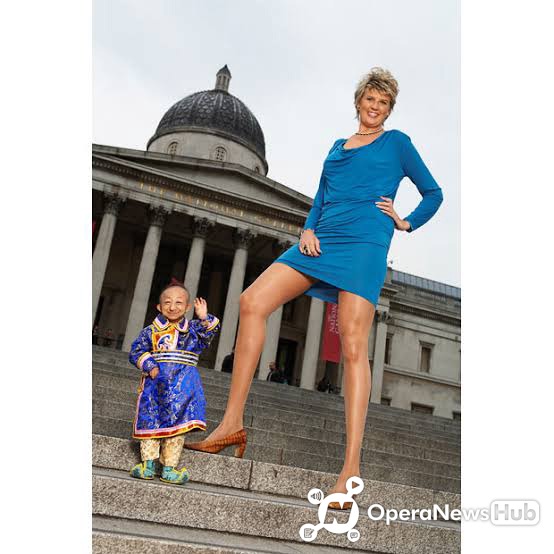 An interesting aspect of Dangi's life was his ability to get married to an elegant woman in person of Pankratova. The two love birds met when He was standing at Her knees.
Pankratova, His wife which is 36 and a Russian but lives in Spain has legs that are nearly 52 inches (132 cm) long or more than 4 ft (1.2 m) long. Her upper body has nearly typical proportion, giving her a giraffe-like appearance.
She is seen dressed in a bright blue mini dress and low heeled pumps. Pankratova however said, she like her legs, even though they can complicate things. She added that "it is hard to find cloths that fits, especially pants"
Celebrating and recognizing special people around us is what makes the world beautiful and go round.