Experts explain causes of dead fishes on Bonny-Andoni shores, Idaa Obolo reacts – Adasi Science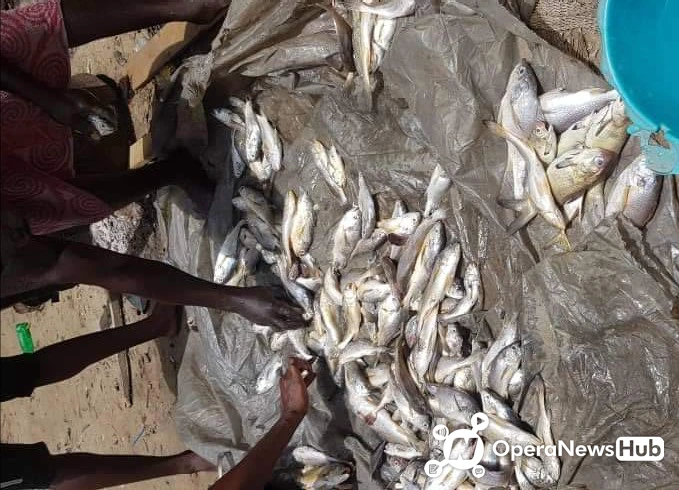 The recent incidence of large quantities of dead fishes found on the shores of Bonny-Andoni and other Ijaw communities in the Niger Delta region has posed another environmental challenge even as the nation battles the COVID-19 pandemic. The incidence reportedly began since the last week of March, 2020.
A preliminary investigation carried out by a Community Survey Team of Bonny indigenes under the aegis of Finima Youths Congress (FYC) on Wednesday and Thursday, 15th-16th April, 2020 revealed that the species of fish affected is mainly 'Croaker' popularly known as 'Broke Marriage' and called 'Onah' in both Ibani and Obolo dialects.
The affected areas include shorelines and waterways of Amariari, Lighthouse, River-7, Agaja, Uku-Mbi, Mbisu 1, Mbisu 2, and Ifoko communities in Bonny LGA; Oyorokoto and surrounding communities in Andoni LGA as well as several communities along the Atlantic shoreline across the area referred to as the Gulf of Guinea which include: Ondo, Delta, Bayelsa, Rivers and Akwa Ibom States in Nigeria.
The Survey Team also gathered that the fishes were seen always turning up fresh in the mornings along the shores, some popping up on the surface of the water alive and some struggling to stay alive and then they die. The said fishes, suspected to be infected, begin to rot from the tail as against the head and then turn green; when spread out on the fire to dry, unlike normal fish, these do not thoroughly dry up, instead they would disintegrate or scatter.
EXPERT ANALYSIS ON LIKELY CAUSES
AdasiScience Environmental Monitoring Team in collaboration with Living Science Foundation (LSF) engaged a team of seasoned environmental scientists to analyze possible environmental-health risks associated with the 'dead fishes incidence' with a view of sensitizing the concerned citizens appropriately.
Bonny Andoni Shoreline
According to the Expert Team's analysis led by Dr. Chukwuka Azubuike Victor, a University of Ibadan trained ecotoxicologist/conservation scientist and Prof. Olaniyi Komolafe of the Department of Zoology, OAU, the likely causes of large amount of 'fish kill' are chemical pollution, environmental disturbance and bacterial infection.
The ecotoxicologists pointed out this particular incidence involving only a single-species (croaker) is rarely caused by pollution. Chemical pollution often results in the death of multiple species of fishes in large quantities.
Dr. Chukwuka noted that documented evidence from other parts of the world indicates that such occurrences are attributable to sharp changes in environmental parameters like oxygen and pH, due to marked environmental events like heavy rains, massive flood/ runoff from urban areas. "This species of fish which forms shoals (large mobile clusters) may have encountered sudden unfavorable conditions during their inter-habitat migration that usually takes place during the warm months of March -June", he submitted.
On the observation that some of the fish kept popping up on the surface of the water and some were alive when sighted only to be struggling to stay alive and then they die, he explained that the fishes likely experienced respiratory distress prior to death, which is consistent with the likelihood of a recent ecological imbalance (natural or anthropogenic) that affected oxygen concentrations in surface water.
On why the fish begins to rotten from the tail as against the head, the experts explained that this indicated a fin rot effect of bacterial infection, most probably opportunistic infection ongoing before the fish died. Such infection is commonly brought on by bad water conditions, injury, poor diet, stress, or as a secondary infection in a fish which is already stressed by other disease. When the fish begins to turn green as they get rotten, this suggests to be an advanced effect (or post humus effect) of the fin rot disease.
LIKELY SOURCE (POINT) OF INFECTION OR POLLUTION?
Since the survey report revealed that within 2 nautical miles from Lighthouse the fish were all dead but beyond that and as far as the Fairway Buoy many of the fishes were sighted alive only to die later, this implies that the affected fish population were far from shallow waters when affected by the environmental incidence. This rules out the possibility of land runoff, and increases the chances of natural causes, like heavy rains causing sudden drop in oxygen, by mixing high oxygen water layers with low oxygen water layers (ocean water is stratified).
WHAT WILL HAPPEN TO THOSE WHO EAT THE INFECTED FISH?
As gathered, even before the attention of the government was drawn to the incidence, some residents of the affected areas, who believed that God has blessed them with natural palliative provision in this COVID-19 lockdown era, had already used the affected fishes for domestic consumption (meals) while fishermen and traders dried and sold some to their customers in Bonny, Andoni communities, Kaa, and Port Harcourt markets, making 'cool cash'! Our respondent, confirmed that some 'smart fishermen' made up to one hundred thousand (N100,000) from the outbreak, which they termed 'daily manna'.
Fisherman harvesting some of the fishes
The big question now is what will happen to those who eat the 'infected fishes'? Some, even feared that the fishes might have been contaminated by the corona virus! Before, you panic and start swallowing unprescribed drugs, Get this clear, now! Read on!!
The environmental biologists clearly stateed that only a reliable laboratory (forensic test) results on dead fish samples can confirm the actual cause(s) of the incidence leading the death of the fishes. they further explained that if the outcome of the test rules out that the fishes were killed by chemicals, the only worry will be bacteria flora present in the fish tissue, since decay would have commenced prior to being washed ashore.
However, they gave useful insights that the likely reason why the fishes disintegrate or scatter and do not thoroughly dry up when spread out on the fire to dry, unlike fish that is caught alive and brought to the shore, is likely a depiction of advanced bacterial activity in the tissue of dead fish.
Interestingly, it has been proven that local fish processing techniques e.g. drying and smoking, to a large extent, deal with bacteria in aquatic food, however such food will be far less nutritious compared to fishes that were caught alive with a net. In such case, health risks may be quite minimal.
WHAT THE GOVERNMENT SHOULD DO FAST!
Reports indicated that the attention of the Rivers State Commissioner for Environment, Dr. Igbiks Tamuno has been drawn to the incidence, who had commenced investigation into the matter and that the community survey team had also sent samples of the 'infected fishes' and water to Prof. Ibitoru Hart for laboratory analysis in Port-Harcourt. While these steps are quite commendable, the laboratory tests results on the fish samples should be made public and where there exists dire consequences, the public should be properly sensitized with immediate effect.
In addition, our team suggests that if this incidence persists, physico-chemical parameters be taken around the site where dying fish were last observed, areas at intervals towards the high sea and at intervals towards the shore. If a gradient of parameters can be established from the shoreline to the high sea, it could help narrow down probable cause of the fish kill.
The State government should embark on intermittent sea-clean up exercise to remove dead fishes from the shore, and those floating offshore. This will prevent secondary hazards to other coastal species. For instance, decaying floating fish will lower oxygen concentrations in surface water, which can affect the survival of other species.
On the long term, ecological mapping of local fauna is imminent for risk assessment and conservation of local fauna. Other relevant federal and state MDAs including Federal Ministries of Environment, NESREA, Institute of Fisheries Research, etc. should intervene as a matter of urgency, not only to curb the incidence but to take proactive measures to forestall reoccurrence where applicable.
Also Engr. Elijah C. Nwabuisiaku, a top environmental enforcement officer, stressed the need for the state government and other relevant authorities in riverine areas to carry out regular 'Clean Ocean Initiatives' to get rid of water pollutants and invasive species, in line with global best practices to achieve sustainable marine environment as well as protect the main source of livelihood of the people in the affected areas.
Mr. Cyrus Nkangwung, Chairman, Idaa Obolo Forum.
IDAA OBOLO SPEAKS..
Meanwhile, the Chairman, Idaa Obolo Forum, a socio-cultural umbrella body of Obolo ethnic nationality (worldwide), Sir Cyrus Nkangwung, in a statement issued in Port-Harcourt, cautioned all Obolo sons and daughters as well as other residents in the affected areas to strictly adhere to government's directive to desist from the trade and consumption of the 'infected dead fishes' until the order is reversed. Mr. Cyrus, is also the Zonal Director, NOSDRA, Port-Harcourt Zonal Office and an experienced zoologist (environmental biologist).
In a similar development, Andoni Progressive Union (APU), AbujaChapter Chairman, Mr. Inwon L. Fingesi also enjoined Andoni (Obolo) indigenes and other Ijaw people dwelling in the affected communities to stay safe. He emphasized, "At the moment, selling, buying and eating of 'Croaker Fish' whether fresh or dried should be avoided, until the investigations are concluded and a new directive issued by relevant government authorities; may 'Awaji' (God) shield all Obolo people and others throughout this challenging COVID-19 period".
AdasiScience is run by an environmental analyst and science educator, Mr. Isijaan Pace Adasi-Ene, an Andoni (Obolo) son while Living Science Foundation is coordinated by Prof. Joshua Ojo, an environmental researcher of international repute at Obafemi Awolowo University (OAU), Ile-Ife. Visit: www.adasiempire.com, contact: 09020114273.