FRSC returns deceased accident victim's money to family in Anambra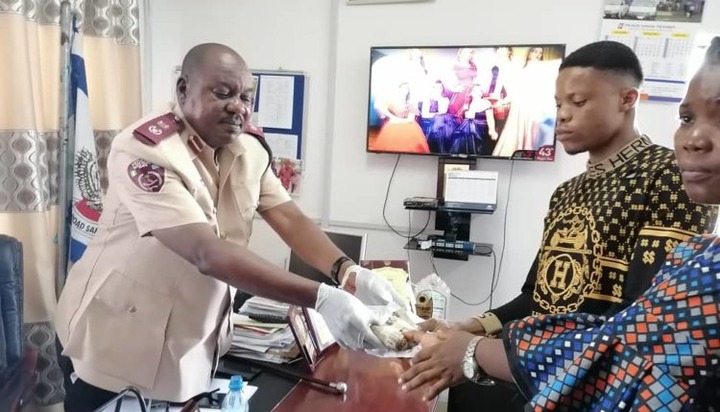 As part of its crash rescue operations and recovery of items at crash scenes, the Federal Road Safety Commission (FRSC) has returned the sum of N170,000 belonging to late Okechukwu Patricia Chinelo of Umuogwali village, Awka-South Local Government Area of Anambra state.
The said amount of money was recovered by the officials of the FRSC in Anambra state shortly after a fatal crash at Kwata junction Awka on Friday 27th of March, this year which claimed the life of Okechukwu Patricia Chinelo and left some others severely injured.
Presenting the money to the family of late Mrs Okechukwu in his office yesterday at the command headquarters Awka, the Secor Commander, Andrew Ayodele Kumapayi, commiserated with the family of the deceased over the death of their sister, urging them to bear the loss with fortitude.
He said it was rather unfortunate that their sister was involved in the fatal crash that claimed her life but equally consoled them not to grief so much, saying that death itself is a natural end for all mortals.
According to the Sector Commander, it is the sole responsibility as well as moral obligation of the FRSC to recover and return all items at accident scenes to the rightful owners after thorough investigations and identifications.
Kumapayi noted that such were some of the patriotic approach deployed in their rescue operations to cushion the effects of crashes on the families of accident victims.
He said: "We had to conduct thorough investigations to make sure that we are dealing with the right family because many people were involved in the crash. The family had to come with identity card which we proved beyond reasonable doubts that it belongs to them."
The Sector Commander recalled that on that fateful day, it was a truck that climbed over the tricycle that late Mrs Okechukwu boarded which led to her untimely demise. He said the truck driver was currently in police custody and being prosecuted.
The Anambra FRSC boss maintained that it was not the first time the C ommission recovered and returned items from accident scenes, noting that FRSC has recovered stolen vehicles and handed them over to the police for further investigations.
Speaking on behalf of the family, Thompson Onuorah expressed profound gratitude to the Sector Commander and his team for being patriotic and honest in the discharge of their operations.
Onuorah equally urged the Commission not to renege on its moral obligations to the motoring public but continue to ensure prompt rescue operations as evidenced in the money they recovered and returned to their late sister, late Mrs Okechukwu.
Present at the Sector Commander's office yesterday to receive the N170,000 recovered from the crash were children of the deceased, Miss Chisom Blessing Nwobu and Master Victor Chidera, twin brother of the deceased, Patrick Okechukwu. Others were the elder sister of the deceased, Kate Onuorah and her husband, Thompson Onourah.