I have lost count of those I have defrauded —Mother of 5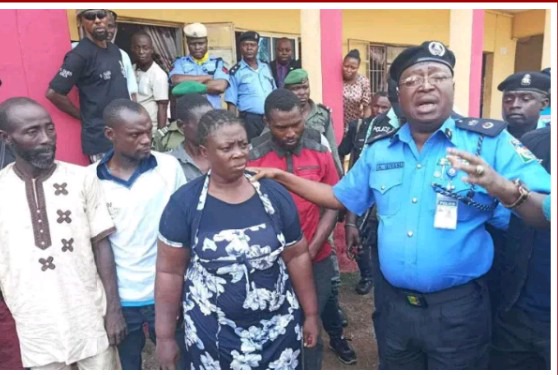 A 45-year-old mother of five, Ashile Basirat, paraded by Ogun State Police Command for allegedly conspiring with robbers to dupe passengers in Abeokuta, said she took into the illicit act of duping people because she had once been a victim.
She said her children had advised her to stop the illicit business, but her venture into trade did not yield the desired profit, making her continue her illicit business.
The Police Commissioner in the state, Ahmed Iliyasu, said Basirat, a suspected member of a fraud syndicate, engaged in fooling unsuspecting passengers by hypnotising them, take them to the nearest Automated Teller Machine, ATM, point to dispose them of cash.
Ilyasu said the syndicate specialized in driving commercial taxi cab, pretending to be drivers and simulated passengers to dupe the unsuspecting members of the public. Other members of the syndicate are Leonard Ifeanyi, Tajudeen Erinosho and Ashimiyu Olaniyan.
Explaining how her gang operated before they were apprehended, Basirat claimed that her gang members act as passengers in a taxi, pretending to be waiting for one more passenger.
She said when the victim is found, they would tell him or her that there was money in the booth, which could not be spent because it was spiritually locked.
She further explained that the victim would be persuaded to follow them to a priest and "he or she would be brought to me, while I pretend to be an Ifa priestess (Iya Alawo)."