How Lagos couple tortured domestic house help to death over a piece of fish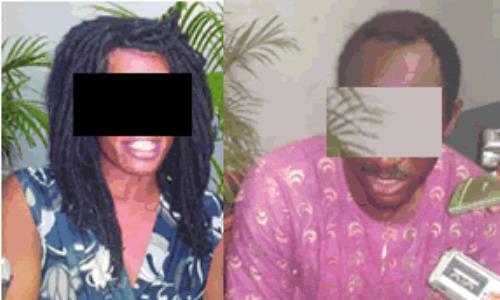 It was revealed when When these teenagers, Chukwuebuka Orakwue and Oliver Orakwue, who were indegenes of Ifite-Ogwari area of Anambra State, had the opportunity of relocating to Lagos State, last May , a place they have always savored and constantly relished to visit, they embraced the offer with open hands, without an inkling of what awaits them.
But soon, after they arrived Lagos State , their dreams eventually turned into a nightmare as they were welcomed into, what seems to be a torture chamber. The chamber turned out to be the home of one
Elechukwu Nwajiofor and his wife Chiamaka.The unsuspecting teenagers started being apprehensive after they saw the condition of another 11- year- old boy, Emmanuel Azuka who resides with the couple.He was looking very unhealthy,tortured, battered and uncared-for.
In fact, the condition of the boy made the duo to quickly request to be taken back to their village but their host made sure they did not have that opportunity.He reportedly objected to their request claiming that he had spent over five hundred thousand naira to bring them to Lagos as domestic servants.
Chukwuebuka Orakwue, told Reporters that their master,Elechukwu, who is a native of Nneni town in Anambra State, had sought the assistance of his friend, Nwabufor, from their home town (Ifite-Ogwari), to help him secure domestic assistants for his six-month-old pregnant wife in return for good life, sound education and care. And based on that, Chukwuebuka and Oliver, who were both 14 years old, jumped at the opportunity after their parents consented to Nwabufor request.
After their master rejected their constant pleas to be allowed to go back to their village, the teenagers had no other alternative than to continue with the torture, domestic abuses and other maltreatment in the hands of their master and his wife.
In fact, the maltreatment continued unabated until last Wednesday when one of them, Oliver gave up the ghost.He breathed his last after being tortured for over two weeks, for stealing few pieces of fish from the pot.He was allegedly chained from the back to his hands and legs and was locked up in the toilet, without food or water, and while on chains, the wife was beating him daily with belt, pestle and wires, before he took ill and died.
Neighbors at their Ago-Okota residence alerted the police as news of the death of the domestic help filtered out.The couple were subsequently arrested by the Police and paraded before reporters