Lagos based trader arrested for operating 25 Zenith Bank accounts with different identities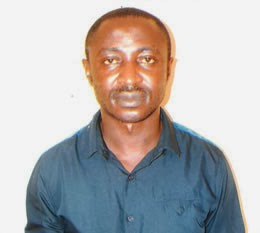 39-year-old trader, Okonkwo Nwachukwu, has been arrested by the Special Fraud Unit, Ikoyi, after it was discovered that he had opened 25 savings accounts with Zenith Bank, under different identities.
The Special Fraud Unit spokesperson, DSP Ngozi Isintume-Agu, said the SFU Commissioner of Police had received a petition from the bank on February 12.
"The petition alleged that Nwachukwu had appeared at the Amuwo Odofin branch of Zenith Bank to open a savings account and presented an already completed savings account opening package with the name, Obiozor Ifeanyi, and identified himself as such with a National Identity Card.
"While the Customer Service office was checking the documents, Nwachukwu allegedly went to the Marketing Unit and collected another savings account opening package and completed same with another name, Ogueji Nnamdi. He allegedly returned to the Customer Service Desk and presented same for account opening with another National Identity Card bearing Ogueji Nnamdi."
The Customer Service Officer reportedly became suspicious with the unsuspecting Nwachukwu's attempt to open another savings account within minutes with another identity. He then searched the bank's system with Nwachukwu's phone number and it was discovered that he already possessed about 25 savings accounts at various branches under different names.
The statement added, "It was further alleged that Nwachukwu also operated a corporate account with number 1012000129, belonging to Chukon Integrated Limited, and he also identified himself as Okonkwo Nwachukwu when he opened the said account.
"A native of Okija Ihiala LGA of Anambra State, Nwachukwu is into cargo business and owns an office at Block 4, Shop 169 A.P.T. Market Trade Fair, Lagos."
Nwachukwu reportedly explained that the multiple accounts he opened was to enable him run his business successfully. He said he had N50,000 each in 15 different accounts, while the remaining ones had N20,000, N10,000 and N5,000 respectively.
He allegedly blamed the cashless policy of the CBN for his actions, saying that he was not permitted to withdraw a huge sum of money in one account and as such, he was advised to open multiple accounts to spread his money.
The police said the action was meant to defraud financial institutions and unsuspecting members of the public.
The suspect alleged that the National Identity Card and PHCN bills used in opening his multiple accounts were forged by one Pepper who is at large.
He also claimed that he had come back from China on January 27, and started the multiple account opening from February 5, to 7, when he was apprehended.
SFU Deputy Commissioner of Police, Mr. Zubairu Muazu, commended the management of Zenith Bank for their discovery and advised other banks to be at alert to such scammers "who work as a syndicate to defraud members of the public.
"Investigation is ongoing to unravel more about the suspect's motive behind the multiple account opening," Isintume-Agu added.