Two brothers killed and used their cousin for rituals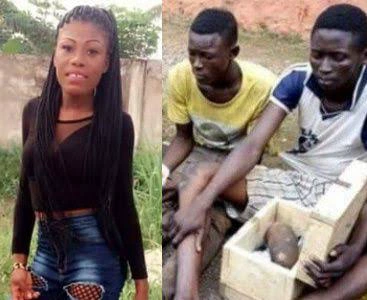 Things just keep happening and what is this all for? Money? Why look for money wrongly when you know that you can't enjoy the money peacefully? As the bible said money is the root of all evil and the more I live the more I find this to be absolutely true and this news is no different as two brother 23 and 25 years old respectively were arrested yesterday in Azikoro village in Yenagoa bayelsa state for killing and using their 18 year old cousin sister for rituals.
The little girl was reported missing last week and the girl's mum is late and has been living with her aunt since she was 13, according to the boys, they lured her to an uncompleted building and strangled her to death before removing her tongue and fingers for the rituals.
They boys where caught when they were trying to take the girl's body parts to the native doctor by the police standing on the road.
Their tearful mum begged for mercy for her children and also said she never knew her boys where doing thing like that and that she trusted them.
The boys are currently in the police station and will be charged to court for murder according to the police.