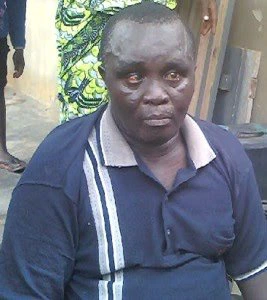 One Christopher Tochukwu has been arrested by the police for allegedly raping young girls and running a baby factory in Aba, Abia state capital.
Tochukwu, a pastor with a new generation Pentecostal church, had converted a one-storey building which doubles as the Church and medical centre for kidnapped pregnant girls. Detectives attached to the Ariaria Police Division in Aba, acting on a tip-off, rescued three pregnant girls and one girl whose baby had been sold to a yet to be identified person.
Tochukwu and operator of the clinic were nabbed while a two-week old premature baby was also rescued.The toddler is now at motherless babies' home for proper care.
One of the girls identified as Imeabo Udo said she was taken to the Clinic by a young man who promised to help her take care of her two-year-old baby. She recalled that on getting to the clinic, her baby boy was taken away from her and sold to an unidentified woman.
Similarly, Jane Ikechukwu, Blessing and Gift, said they were also taken to the same Clinic for antenatal care and were forced to stay there for more than one month.
According to Blessing, Tochukwu raped them one after another, while they were all locked up in different rooms within the clinic.
She said, the pastor was coming to rape them one after the other. It was while he was raping one of them, that the girl fought him and wounded him with a broken glass. It was the girl that escaped through the window and alerted the Police.
Tochukwu who claimed to be a nurse by training, however, denied raping the girls. He said he had no arrangement to sell their babies after birth, adding that he was just keeping them to pay their bills after he had treated them.
The Police Command, confirmed the arrest of the suspect and the girls' rescue. They added that investigation was ongoing.