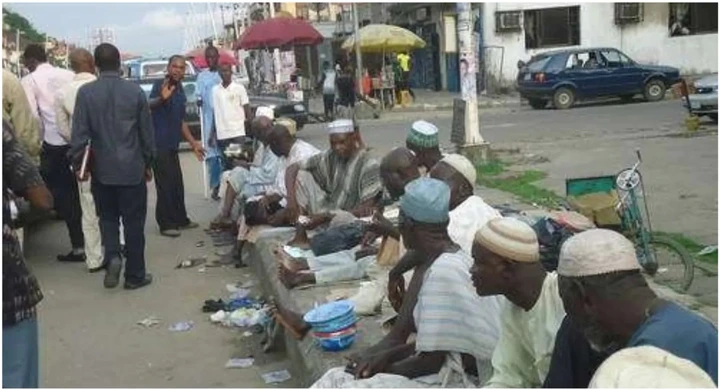 Alhaji Umar Dikko is a poor man, but it is a big difference to other faiths. He is the Emir of Morocco in Ajegunle, Lagos State. Despite his disability, Alhaji Umar owns a wealth of assets and has four wives and 18 children. He has five buildings in Kano State.
Describing his disability, Alhaji Umar Dikko said that this happened to him when he was only three years old. He used to wander the streets to find something to feed himself for his parents' release.
"I lost my leg at the age of three because of polio. My parents and other family members didn't care about me and cared about me. My mom is struggling and has seven kids. At the age of 6, I started to look after myself because I couldn't get the money. One of my cousins ​​goes to the market to beg me but the money goes to our mother who cares for us.
"When I was 15, I decided to come back to Lagos. It was after my arrival that I met the Hausa people at Agege and we went out together last year. But there is someone who gives us a day's sleep, who takes all the money we earn and gives us only food."
"After three years with him, I moved to Ajegunle where I met one of my hometowns. He is my Englishman but I owe him a portion of our income. It was then that I began to save my money so that I could buy a rental car"
"Then I bought another car from which I started the transportation business. I have more than 20 vehicles traveling from Lagos, Kano, Abuja, Kaduna, Jos and other northern states."
Dikko said he moved from here to Kano where he built a house and put tenants in it. But it also didn't stop last year to make it look like a business.
He then built four more houses, renting two and putting his four wives and 18 children into it. According to him, he has done the pilgrimage three times and is looking after his family properly.
"In the last five years and ago I was appointed king marokan Ajegunle and I watch the events last year to mediate between beggars. But I have stopped begging now. " he said.