"I didn't know the child was not his own and I was kidnapping the child" – Woman confesses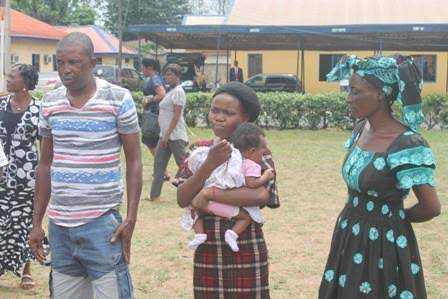 A 31-year-old woman named Grace John accused of kidnapping her boss' daughter, Oluwasemilore Adebiyi, has said she only assisted the baby's real father to collect her.
John was paraded at the Lagos State Police Command yesterday alongside two other women, Rita Eze and Ugochi Nweke, alleged to be buyers of the 1-year-old girl.
It would be recalled that the little girl, who was kidnapped around Alagbado area of Lagos, had been sold to three different buyers in the eastern part of the country for prices ranging from N500,000 to N600,000, before she was eventually rescued in Aba.
According to the apprentice, Samuel approached her and told her that the baby's mother, Mrs. Oluwatobiloba Adebiyi, was his lover and got pregnant for him before marrying another man.
She claimed it was the said Samuel who took her to the woman's shop at Alagbado in January, where she later took the child and carried her to her alleged grandmother.
John denied reports that she was responsible for the kidnapping of other children across the state, insisting that she was not a kidnapper. The police had alleged that the child was sold to three different buyers for N500,000 and N600,000 before her eventual rescue in Aba, Abia State.
But John said Samuel told her the woman was his former girlfriend, who married another man and that he wanted to take his child from her for proper care. Samuel took her to the woman's shop in Alagbado and she pretended that she wanted to learn bead making from her and they agreed on the modalities.
She further confessed that after seven days, she told the woman she was going to buy Gala and she took the girl with her to Kola Bus Stop where she met Samuel, who instructed her to take her to his grandmother in Onitsha, because he is in school. The following day, she boarded a bus to Onitsha and met the woman (Rita Eze). She handed over the child to her and she was given the sum of N60,000 for transport.
She said she never knew the child was not Samuel's and she have never thought what she did was kidnapping. That she just wanted to help a man, who cried to her that his child was not being properly taken care of. And that has not done it before.
Corroborating John's story, Eze said she knew Samuel through an old classmate of hers, who told her they needed someone to take proper care of his child. She met her old friend at an event in December and she was told her nephew had a child they needed someone to take proper care of. She gave Samuel her number and he called her to say his girlfriend would bring a child from Lagos, When Grace brought the girl, Samuel told her to sell the girl, which she gave to Ugochi.
Ugochi gave her N500,000, which she gave Grace N60,000, she took N40,000 and sent the rest to Samuel. That she never knew him before. She thought the child was his. She never knew the child was kidnapped, she only accepted to help sell the child because she needed money to pay her house rent.
The third suspect, Ugochi noted that she never collected any money from the deal, saying that she was not aware the girl was kidnapped. She claimed she did it to help a friend who was unable to conceive.
She said she told Rita if she had or knew any motherless child that there was someone who was in need of child to adopt and she told her she would get back to her. That when she called her that she had the child, she asked if it was genuine and she said yes and she informed her friend who provided the money. That she did not take anything from the money she handed everything to Rita.
Lagos State police said the suspects would be charged to court immediately after investigation.They also advised parents and guardians to be watchful and very conscious of people they employ as housemaids and apprentice to prevent similar occurrence