How Pastor used 19-Months-Old baby's heart for ritual and charms to perform miracles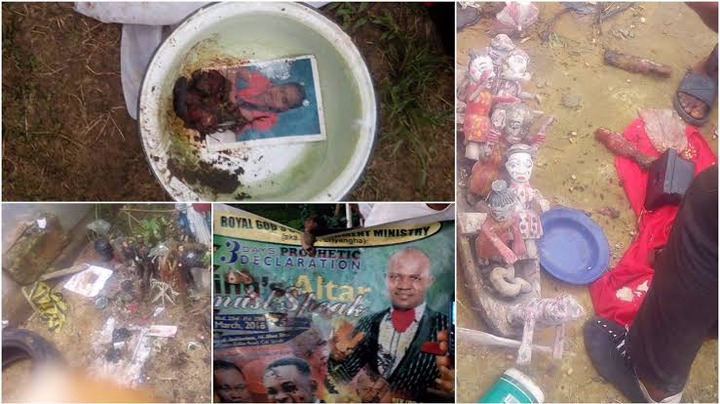 The pastor of Royal God's Commandments Ministry, one Mr. Tony Obo-Ekpeyong, will soon be charged to court for allegedly abducting and killing a 19-month-old baby girl, Success, for ritual purposes.
Following the incident, a branch of the church, along Abua Street in Calabar, was demolished by an angry mob.
The pastor was arrested yesterday evening by the police and items recovered from him included a human heart suspected to be that of the abducted baby, some charms, fetish items and pictures of various persons among others.
While parading the suspect with six others in Calabar this morning, the Police refuted the claim that the suspects in the crime have been freed.
Observers said they were arrested when the parents of the deceased raised an alarm that their child had been abducted by some masked men who stormed their house. They said that the police found some incriminating items when they searched the church and arrested the pastor and six others.
The police said that they received a distress call that one pastor in a church in Calabar South had killed a baby girl. When thay got there, the heart of the child was still shaking. The suspect lied that the heart was that of a fowl. We have sent the heart to the University of Calabar Teaching Hospital for proper analysis.
Rumours had it that the police had collected money to release the suspects but the police have refuted the claim and that the suspects are still in custody and investigation is ongoing.
The suspect, however, denied the allegation, and said that he was praying for one of their members who was sick when the police came and arrested him and that the heart they saw was that of a fowl, that they don't operate any shrine in the church. Also, the blood on the altar was that of a goat and a fowl that they killed to celebrate with their members after their three-day fasting programme.
Faith Inyang, the 20-year-old mother of the baby, said that she recognised one of the men because of his stature, that he lives around their area and he normally passes through their house and that up till now, she has not seen the body of her daughter apart from the heart that was found there.