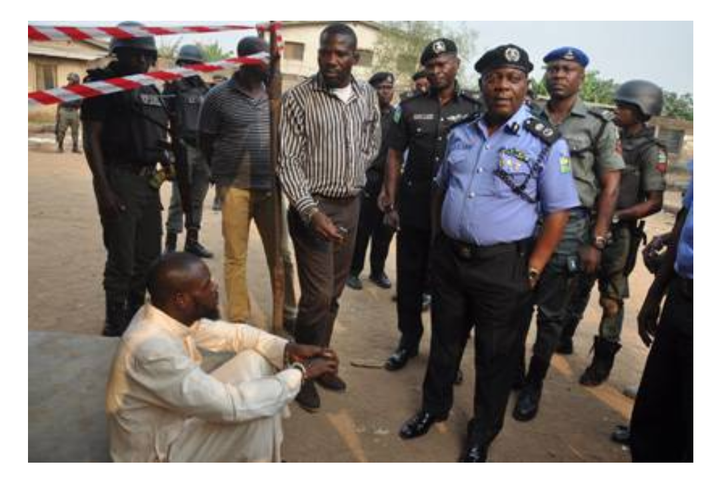 The popular saying that "Wonders Shall Never End" is indeed true because it actually never ends. The Nigerian Police of the Alakuko police command in Lagos State Nigeria have done a beautiful job by Nabbing This Cleric Who Deals on Human parts.
This event happened on Saturday, when an Islamic cleric got Nabbed after the police searched his apartment in Alakuko local government area of Lagos state. The Islamic cleric is known by the name Mr Alfa Kayode Abdul-Fatai who was on Saturday arrested by the Nigerian Police force after they getting a tip from an anonymous person whose identity is best kept Confidential.
The Nigerian Police found human body parts, all belonging to females when they searched the house. The parts they found were mostly human reproductive organs, a heart and a thigh.
In an interview with PRO SP Oti Chike of the Lagos state Alakuko police command, He confirmed the arrest and said they were tipped by someone in who's identity cannot be revealed.
The Culprit also confessed that the human female parts were given to him to keep by a fellow cleric who's also in business with him and thereby an accomplist in this case.
The Public Relations Officer also said that they had arrested his accomplice and will both be charged to court immediately after their investigations has been completed.
The PRO had also said that the commissioner of police of Lagos state warned that the people of Alakuko should be vigilant and continue to expose those who are into dubious activities and disguising themselves with the 'cloak' title of religious leaders.
He advised that neighbors should try to know themselves and the kind of jobs each one does and that every new persons in the neighborhood be monitored properly before completely welcoming them to the neighborhood.
The two of them are still under investigation said the SP, and they will get exactly what they deserve at the end of the investigations.
Now people still think that there are some certain persons whome they think cannot commit certain crimes now that mentality has to change. Trust is one of the most valuable asset right now and cannot or shouldn't be wasted on people who don't deserve it. Let's be careful where we go and who we visit and where our family members go to and whome they visit. People are despirate and can do anything to get wealth