I worked in bakery while Sanyeri was a shoemaker before we succeeded as actors, says Kamilu Kompo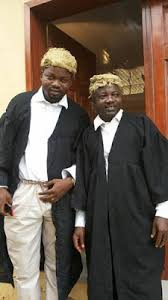 Very many successful people find it convenient to share their grass-to-grace stories and popular comic actor Kamilu Kompo, whose real name is Adekola Tijani, said his journey to stardom was indeed stormy.
Adekola has become a household name in Nollywood alongside his 'twin brother' in the industry, Olaniyi Afonja, popularly called Sanyeri, and he said the two of them experienced sufferings before fate smiled on them.
He was born in Agege, a Lagos suburb, where he had his primary school education but his father took him back to their village in Oyo State. He finished his secondary school education in their village.
His father had his reason of sending him back to the village at tender age' the old man wanted his son to become a farmer and wouldn't be able to achieve that if he stayed in Lagos.
However, fate had a different plan for the young Adekola who started to exhibit his acting talent from his young age.
His father's decision to take him back to the village was a blessing in disguise for Adekola; that was where he met his partner in the industry, Sanyeri, and he was also able to have full grasp of Oyo dialect which has become one of his selling points in the industry today.
"I learnt most of the slangs I use now in movies, way back from my days in the village," he said. "My father took me to the village after my primary school education but around 1995 I returned to Lagos with Sanyeri whom I met in the village so that we could pursue our dream as actors. I didn't go back to my parents' house because they were not in support of my acting career especially my daddy who wanted me to become a farmer."
They came to Lagos in search of actualization of their dreams but things weren't looking up for them at the early stage of their stay in the state and they resorted to menial jobs to survive.
"We have gone through a lot in life. Before acting came up, we took up menials jobs just to make ends meet. I once worked in a bakery. Sanyeri once also worked as a cobbler. We went through a lot of suffering and hardship for over 5 years before we joined Ajala Jalingo's group," he told our correspondent.
They were with the Ajala Jalingo's group for about five years before they decided to stand on their own and as their stars would have their first movie production shot them to limelight.