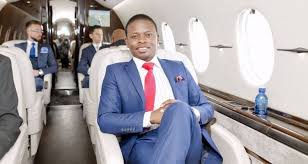 The young and the bold excel in their field this reality played itself out when Forbes roll out it's the latest ranking of Africa's Richest Pastors, a certain young man, aged 36 as second on the list and the youngest on the roaster of top 10. Shepherd Bushiri was number two on the list behind Bishop David Oyedepo, the founder of the Faith Tabernacle as the Nigerian preacher is the richest Africa pastor on the Forbes ranking.
At 36 years old, Sheperd Bushiri has the four private Jets, a number of hotels and a church with hundreds of thousands of faithful followers. The Forbes ranking puts his net worth at 150 million US dollars.
Who is Bushiri
Pastor Shepherd Bushiri was 36 born years ago in Malawi precisely on the 20th day of February 1983. He grew up in the northern and started business at an early age.
Shepherd Bushiri started his first business at an early age after receiving a small loan from his father. The loan was used in farming with profits reinvested. Bushiri now has a global investment company, known as Shepherd Bushiri Investments, based in Sandton near Johannesburg, with interests in mining, real estate, an airline and other entrepreneurial enterprises.
Charity Work
Pastor Shepherd Bushiri has been involved in many charity works through his foundation named "The Shepherd Bushiri Foundation ". Notable among his numerous humanitarian work includes the food subsidy program he initiated in 2017 when he took maize to Lilongwe and spent K85 Million in Malawi Charity. His charity works also Education, youth in sports and music through his sports academy and music company called Major 1 records. The two platforms are to support talented youths in Malawi.
His Controversies
He has had a fair share of his controversies as well, his church attracted thousands of worshippers and miracle seeker, he was banned from entering Botswana due to unverifiable miracles claim but he has since been unbanned by court one of such claim is his claim of curing HIV miraculously.
On 1 February 2019, Bushiri was arrested together with his wife by South Africa's Directorate for Priority Investigations (HAWKS) for fraud and money laundering. They were later granted bail with stringent travel conditions.
The contravention of the Act was in relation to Exchange Control Regulations relating to foreign currency of over one million dollars.
In 2019, the South African National Prosecuting Authority(NPA) apply for the forfeiture of two of his jets, 1984 Gulfstream which the agency claimed were acquired in 2016 illegally for one hundred and twenty-five million dollars but the forfeiture application was not ready to go ahead due to lack of substantial evidence and it was dropped from the court roll.
Pastor Shepherd Bushiri will be 37 years In the 20th of February, 2020. One of the youngest millionaires in Africa and the youngest pastor millionaire in Africa no doubt is one of the richest men in the world. In 2018 he was given the prestigious award and induction into the CEO Hall of Fame by the African Leadership Magazine. Shepherd Bushiri enjoys football and chess. He is married to Mary Bushiri, an accountant and the union is blessed with two daughters.