Popular radio presenter beaten to the point of death by NURTW members for exposing their secret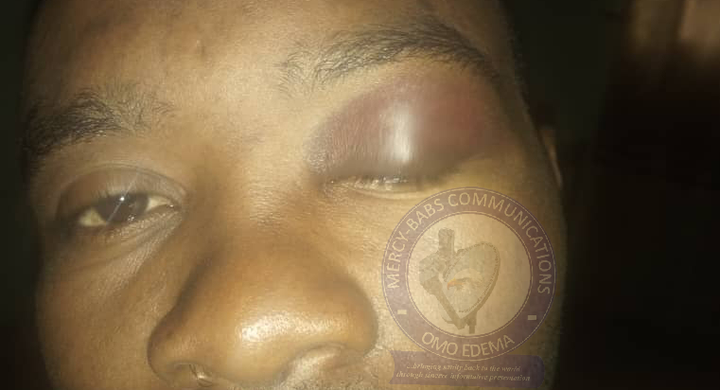 Last Thursday afternoon was a moment of enduring assault on Babatunde Bamigboye (Omo Edema) and members of his team as members of the Ondo state NURTW from Ilesa/Osogbo/Ibadan motor park at Roadblock Akure descended heavily on them and beat them to stupor.
It was gathered that a woman simply identified as Oluwatayo had come to narrate to the presenter how she was hypnotised and probably kidnapped from a vehicle she boarded from the park on Friday November 2, 2018. The woman, who claimed to be a civil servant in the state, said she went to the park and boarded vehicle going to Ilesa in Osun State, but later found herself in hypnosis in Osogbo around 9pm in the evening of the same day. She said she came to her senses seeing herself on the ground with her arm bag by her side. She added that she was taken to the police station by the good people of the area where she found herself. She said her family members had to come from Akure to pick her in Osogbo the following morning.
Consequent upon this claim, the Gongo Nso radio programme's presenter and members of his team went to meet with the park chairmen to confirm the incident as the woman said she signed passengers' manifest at the park before they embark on the journey.
However, the park chairmen and their members, who reluctantly welcomed the life-saving meeting, brought out some passengers' records for the said Friday on which none was reflecting the woman's name. They subsequently seized the vehicle brought by the team, descended heavily on them and beat them to stupor.
The drivers demanded that the woman be brought to them in order to 'teach her sense' according to them. Omo Edema told them that Oluwatayo was available to answer questions from them, but would not be brought to the park for security reasons.
It took the intervention of the police to rescue the investigative broadcaster and his team from being lynched by the drivers.
According to the presenter, three state executive members of the drivers' union later came to witness the mobbing.
"Before they began to attack us, they said an order had come from their state chairman, Jacob Adebo aka Idajo to lynch us
"They went to carry boiled water from a nearby food vendor to pure it on us. They also brought tyres to force it on our necks and set us ablaze, but God delivered us from their grievous attack", Omo Edema said.