Largest child trafficking syndicate caught in Asaba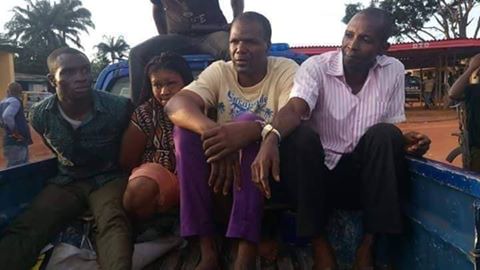 A syndicate of child traffickers has been caught in the city of Asaba the delta state capital, this is coming on the heels of a major crackdown on criminal element troubling the Asaba/onitsha axis by the men of the Nigerian police force.
The kingpin Mrs abigail nwakama has a lot of pub houses where drinks are sold but her real business is kidnapped children of unsuspecting parent and selling them. The woman also known as cash madam operated from okpanam/Asaba axis and sell these kid to a pastor in ogidi anambra state, so far twelve children where recovered and two has safely been returned to their parent.
The suspected criminal are: Abigail Nwakama 32yrs a.k.a. Madam cash who has a shop at stop abortion junction before St. Brigds, Nnoruka Obioma 21yrs, Chidinma Anikwesiri 20yrs, Onyinye Nwakama 11yrs- daughter of Abigail Nwakama, Ifeoma Anyadike 32yrs. They confessed to the crime and led detectives to Ogidi in Anambra State where the 12 suspected stolen children were recovered from one Pastor Chinedu Strongson 48yrs of Gospel Fire Ministry, Nkwele-Ogidi, David Ikesinachi, Ebere Edwin, Adaeze Enyi 22yrs, and Chike Agwunenu 55yrs. The Pst Chinedu Strongson paid 400,000 for each child sold to him.