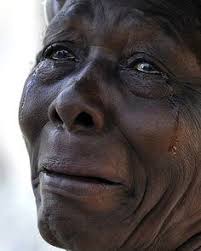 16 years old Christopher Cletus Asuquo was helping his mother, Mmayen Asuquo who is a road sweeper with the Calabar Urban Development Authority, (CUDA) in Cross River State to sweep the road around 5am on November 22nd 2019, when suspected ritualists attacked Christopher.
Mmayen said while she was busy packing some of the trash she gathered while sweeping she heard a voice screaming behind her and when she turned she realised that her son was no where near her. Just then she decided to trace him backwards and she saw some able bodied men trying to chop off her son's head, She started screaming and they left him and flied the scene.
She picked Christopher up but he was already badly injured with machete cuts around his neck while the ritualists were attempting to chop off his head. She rushed him to the hospital and the doctors declared Christopher dead on arrival.
According to HIT FM calabar news on Tuesday 28th January 2020, Mmayen Asuquo said her family is yet to receive any help from government or individuals since the murder of her son. Although some people had visited her in November claiming to come from the state government but never showed up again after promising that the government will assist her family during their dark times.
Mmayen added that the murder of her son has affected her health and her family's living condition.
The bereaved mother has stopped working because of her health and pleads with government and well meaning individuals for help.