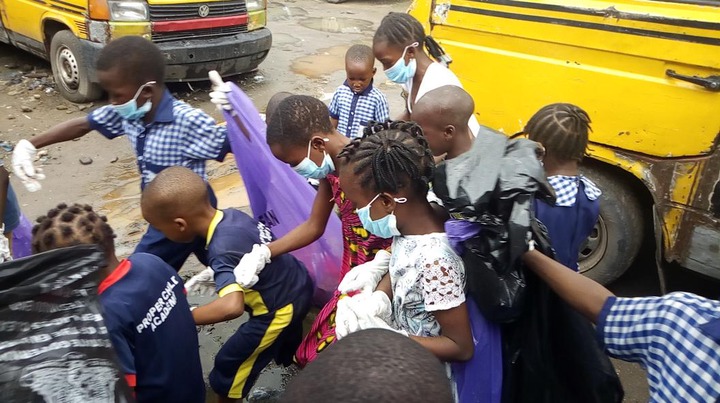 A school in Ajegunle area of Lagos state receives bottles, sachet water, cans and wine bottles in exchange for school fees. In other words, the children do not pay school fees but the owner, a first class sociology graduate with her sister, collects these items in place of school fees.
Miss Rose Ihudiya Amuzie, a first class graduate of sociology from Covenant University, has twitted about a school she established with her sister in Ajegunle area of Lagos state which she named Isrina School.
Miss Amuzie said she grew up in Ajegunle and still living in Ajegunle, an area, according to her, considered to be one of the poorest slums in Lagos state. She graduated from the Covenant University graduated with first class honors from the department of sociology.
After graduation, she established the school alongside her sister in Ajegunle. She established the school so that children within school age can have access to basic education in the neighbourhood.
She said through the platform, the school has eight children in Junior Secondary School already with about 80 children in the entire school in attendance everyday.
She said: "It would be selfish of me not to extend a hand to other children when I was given a chance through school. I'm grateful to several organizations and individuals that have contributed immensely to the growth of these children through scholarships, educational materials and food for these children."
What is most interesting in the tweet is that: "The parents also pick plastics to support their children in school and #recyclespay of @acinigeria will be launched in the school on the 7th of February 2020. You can also support with your plastics."
She added that: "The school adopted the recyclespay to enable parents cater for the educational needs of their children. Parents pick bottles, cans, sachet water and even wine bottles. These are used in exchange for their children's fee."
The age ranges from 6 months to 15 years. Average school fees per term is #5000.
She thanked people who have contributed in many ways to assist the school children. "I don't have words to describe the love showered on these children. I can't even wait for Monday to share the good news to them. Thank you so much to everyone who reached out."