Bank worker emptied customer's account after withdrawing N4Million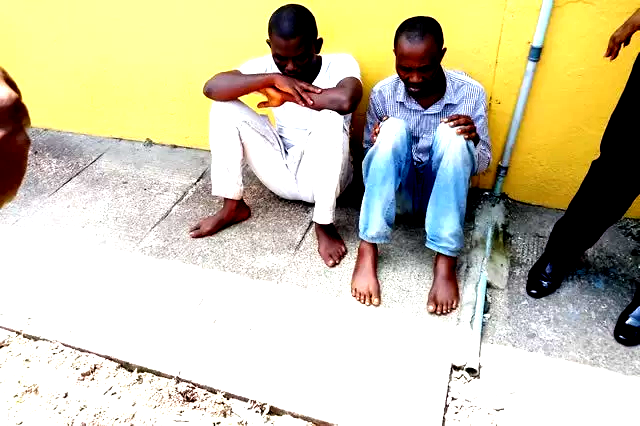 A worker with a bank in Lagos State, identified only as Bunmi, has been declared wanted for allegedly defrauding some customers of the bank.
We learnt that Bunmi hacked into customers' bank accounts and diverted over N4m into some private accounts.
Our correspondent gathered that the fraud was uncovered after owners of the accounts complained about their disappearing funds, which made the bank to institute a probe.
The bank management reportedly blocked the accounts into which the funds were transferred.
Owners of the blocked accounts, who were reportedly unaware that their accounts were being used for fraud, were said to have reported at their various branches and complained of the development.
The bank management was said to have handed them over to the police, investigations led to the arrest of Bunmi's accomplices – Babalola Akinyele, aka Olumba; and Adeshina Adenekan, aka Oluwo Ake.
She noted that the two men tricked the account owners into releasing the numbers, adding that the duo shared the proceeds of the fraud with the prime suspect, who was at large.
The Police said N4m had so far been traced to the suspects.
She said, "Between November 2017 and December 2019, the Zone 2 Police Command, through its Zonal Intervention Squad, arrested two suspects who were members of a fraud syndicate. They specialised in hacking into bank accounts.
"One of the suspects, Babalola Akinyele, operated with one Bunmi, a worker at Reputable Bank in Nigeria (Name Withheld). Bunmi's role is to hack into customers' accounts and transfer money into different bank accounts supplied by Adeshina Adenekan, who thereafter withdraws the money with different Automated Teller Machine cards and returns same to the syndicate.
"Akinyele and Adenekan receive 10 per cent each of the proceeds from Bunmi, the arrowhead of the fraud. They withdrew the money with ATM cards because they did not want to enter into banking halls and be caught. So far, N4m has been traced to them.
"We urge members of the public to be careful and not disclose their Bank Verification Numbers and phone numbers to strangers because these are the things they use to access funds. The case is under investigation and effort is on to arrest the bank worker, who is at large."
Akinyele, 35, an indigene of Ondo State who claimed to be working for a bet company, said he met Bunmi at a car wash.
He said,
"Bunmi helped me to unblock my ATM card. I did not know that he worked in a bank until then. He later said I should get some account numbers for him and I called my friend, Adenekan, to assist me, which he did. Bunmi simply said he wanted to transfer money into the accounts.
"I don't know how the man used to do it, but whenever he transferred money into the accounts, he would call us and we would use ATM cards to withdraw the money. He took 70 per cent, while we shared 30 per cent.
"Bunmi later called me and said he had left the bank and I should throw away the SIM card we had been using to communicate."
The second suspect, Adenekan, a land agent, said he had tricked a woman into providing the account numbers used for the fraud.
He said,
"I met Akinyele in Lagos in November 2017. He called me in December and said he needed some account numbers. I then approached a female customer of mine, telling her I needed three account numbers for my land business. I told her someone wanted to pay me and the money could not be paid into a single account. After she was arrested, she brought the police to me. I then led the cops to Adenekan."
A police source said when the woman was interrogated, she claimed not to have shared from the proceeds of the crime.