Former President Obasanjo in love again as his relationship with Bola gets stronger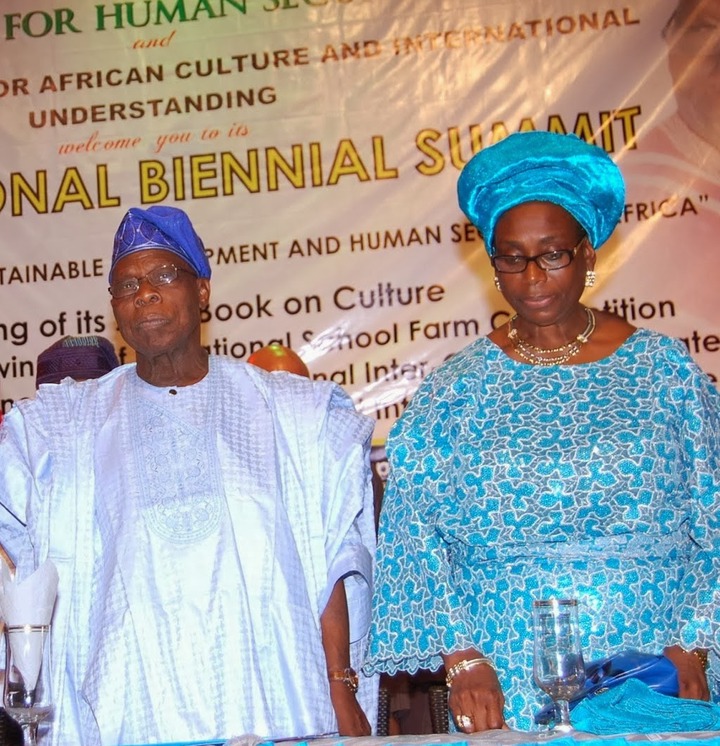 Former President Chief Olusegun Obasanjo is really living it up at the moment. Going by what has been observed by most Nigerians, Obasanjo is enjoying his marriage to Bola, his wife.
Even though, Obasanjo has been seen or reported to have been romantically involved with numerous women in the past.
The elder statesman got married to Bola in 2009, exactly four years after his official wife, Stella Obasanjo died. The marriage ceremony, which was a hush-hush affair, was witnessed by just a handful of his family members. It was gathered that, Bola, who has a daughter, Funso, for Obasanjo has always enjoyed a special place in his life.
While his other women would usually jostle for recognition, Bola took a back seat and maintained a dignified distance from the family.
Sources who are privy to the story of Obasanjo's marriage to Bola, disclosed that his children, led by Senator Iyabo Obasanjo-Bello prevailed on him to take a wife, because they were not happy with his liaison with some famous society ladies.
Obasanjo's children were reported to be particularly peeved with a popular Lagos born Princess, who forcefully positioned herself as the unofficial wife of the former Nigerian president.
At a time, the white attire loving lady, who is in her late 60's, was said to have become a permanent fixture in Obasanjo's life.
During one of his birthday celebrations, she had hosted a party on his behalf.
However, one of Obasanjo's children, Funke was reported to have 'sacked' her and barred her from her father's home. It was after this incidence that the children came together and decided to marry a wife for their father.
Invariably, after a careful search and screening of the women in their father's life, the Obasanjo children unanimously voted Bola, who was then living in England to fill the vacuum, occasioned by Stella's exit.
Predictably, Bola is said to be representing the family well, and she dutifully performs her role as a wife and a mother within the family. She cooks Obasanjo's meal, plays host to his guests and carries out all the other obligations, which come with being a matriarch of the Obasanjo family.