My three-day ordeal with deadly herdsmen, by Lord's Chosen member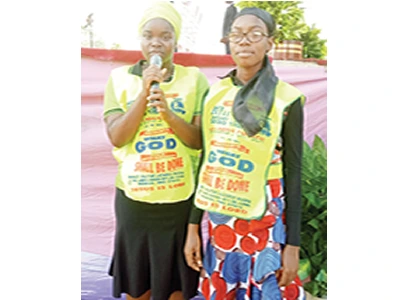 It was horrors for Samuel Agnes and Hanna Patrick, when a gang of nine suspected Fulani herdsmen took them into captivity.
For the 24-year-old Miss Samuel, whose captivity spanned three days (December 29 – 31), she narrowly escaped marathon rape by nine menacing herders, along Benin Ore Road.
Miss Samuel, a youth corps member currently serving her father's land in Buachi State, told our correspondent that the herders had taken turns to rape three other girls (co-travellers) continually, before her very eyes.
According to her, God miraculous saved from the randy Fulani herdsmen, when it became her turn to be so sexually abused.
In the case of Miss Patrick, a 19 year-old fresher at the University of Benin, she equally got lucky and was rescued by policemen on patrol, after another member of the gang made futile attempt to rape her.
Both Miss Samuel and Miss Patrick are choristers at a Benin branch of the Lord's Chosen Charismatic and Revival Ministries. The duo testified about their mysterious escape from the raping herdsmen and kidnappers, at the just concluded International Crusade of the ministry, at Mgbidi, Oru West, Imo State.
When the girls set out on that fateful December 29, in a 15-seater bus from Auchi to Benin, Edo State, they had no incline that that they would wind up in the hands of the notorious gang.
They were rather excited to join other members of the choir in Benin, so as to move in group to the Mgbidi 2020 crusade.
Miss Samuel explained: "On December 29, 2019, we left Auchi to Benin. Along Auchi-Benin Expressway, we discovered that they beckoned on us to stop. Initially, we thought that they were uniform men; but when we got closer we discovered that they were herdsmen. The herders asked all the passengers to step down from the bus."
Miss Samuel added that the herders fired at the window closed to where she and Hanna sat; the bullet hit a man on the front row and killed him immediately.
At that point, Miss Samuel said she was terrified and began to declare "I am a Chosen, I am a Chosen."
She explained that the gang took the passengers to a nearby bush and asked us to lie down.
"While we were there they picked five of us (four ladies and the driver). That was how I was separated from my sister and I stopped hearing from her as they took us further into the forest.
"They asked me what my occupation is; I told them that I am a student. Then they said my ransom is N10, 000, 000," Miss Samuel further related.
She was further asked to open her phone and when she did; her captures discovered that the wall paper revealed picture of the General Overseer of the Lord's Chosen Church, Pastor Lazarus Muoka.
"They saw also that the Apron I was wearing is the same as the one my Daddy G O wore in that picture. So they were like is this your father? I said yes, they said your father is a big man so you are going to pay N20, 000, 000," she added.
"Right there they began to take Tramadol in front of us; and all the nine herdsmen, one after the other, raped the other three ladies repeatedly.
"When it got to my turn, they were about to pounce on me so I declared: 'the God of my pastor where are you?' That was how the gang leader told the rest 'that one na pastor pikin, don't touch her,'
"That was how I was set free from rape that night."
But the next day presented another huddle. "The herdsmen asked us to call our people to bring the ransom. I didn't even call my parents; but I don't know how the number of one of our pastors came through and I just dialed the number. I told him the situation on ground and he started praying.
"The kidnappers were speaking to my Pastor; he didn't answer them but kept on praying. Hence, they mockingly said 'you think prayer dey enter this forest, prayer no dey enter this forestoo;' and you I must pay," Miss Samuel further related.
By December 31, other people who were kidnapped along with her had started called up their relations and the herdsmen eventually told them where they would bring the ransom.
But another miracle took place for Miss Samuel. "I was sleeping at about 11.30 pm when one of the herders tapped me and said it is time, we should start going that someone had paid my ransom. 'That was how they led us out of the bush and even gave us transport fare to back to our various destinations," she said.
She told our correspondent that the incident took place at Oko Village around Iho Road before Benin. But how was Miss Samuel so sure that the kidnappers were actually Fulani herdsmen.
She replied: "I know that they are Fulani herdsmen because they had their attires on and their accent also gave them away as Fulanis. They also had their daggers and cutlass and so on."
She described her experience in their hands as horrifying. "In fact, I saw death seriously but it was just the grace of God that I escaped from rape," she said.
Miss Samuel, who is the second child in the line of her father's children and first daughter, said that he mother was broken when heard of her captivity. "I met my mum just yesterday (January 3), when I arrived at the crusade ground. She just left the choir's stand; knelt down and cried. She held me and was appreciated God for intervening. She actually heard about the kidnap on January 1, they didn't tell her in time.
"I am also sure that nobody paid any ransom on my behalf because I asked my pastors and my parents and they confirmed so," she said.
Narrating her own ordeal, Hanna said one of the herdsmen dragged her into the bush and began to undress, ready to rape her. "I started shouting; I am a Chosen, where is the God of my pastor. I even lost my voice from shouting too much. At the same time I was struggling with my tormentor, I can't explain where I got the strength from.
"When he saw that I will not submit, he walked away and that was how I escaped into the bush. After a while came out with boldness from my hiding pace and headed to the road side away from the scene, hoping to see any bus or person that can help out."
She explained that a Hilux van came bye. "I noticed that the occupants were policemen crossed to the other side of the road. They picked me up and told they took some people to Benin and that she might be among.
"I told them that I have not seen my sister, but they said before we go search for her we should first go to see if we can retrieve some if my belongings.
"Getting there, I saw my bag and opened it. The bag and the money I kept inside were was untouched. My sister, who is our church secretary, gave me a thanks giving envelop to give to our state coordinator, which I put into another bag.
"We retrieved bags and went to the police station in Benin where all those that were reached passed the night. It was following morning when I found the envelop was filled with money; and untouched," Hanna related.
She was reunited wiss Samuel at crusade ground on January 6. She said: "Before then I was really down and couldn't eat, but after I saw my sister again, I was okay."
Them girls advised that people should hold God firmly. "Seriously it is just the mercies of God, We should just have cordial and personal relationship with God because he is the only one that can saved someone from this near death experience," Miss Samuel counseled.