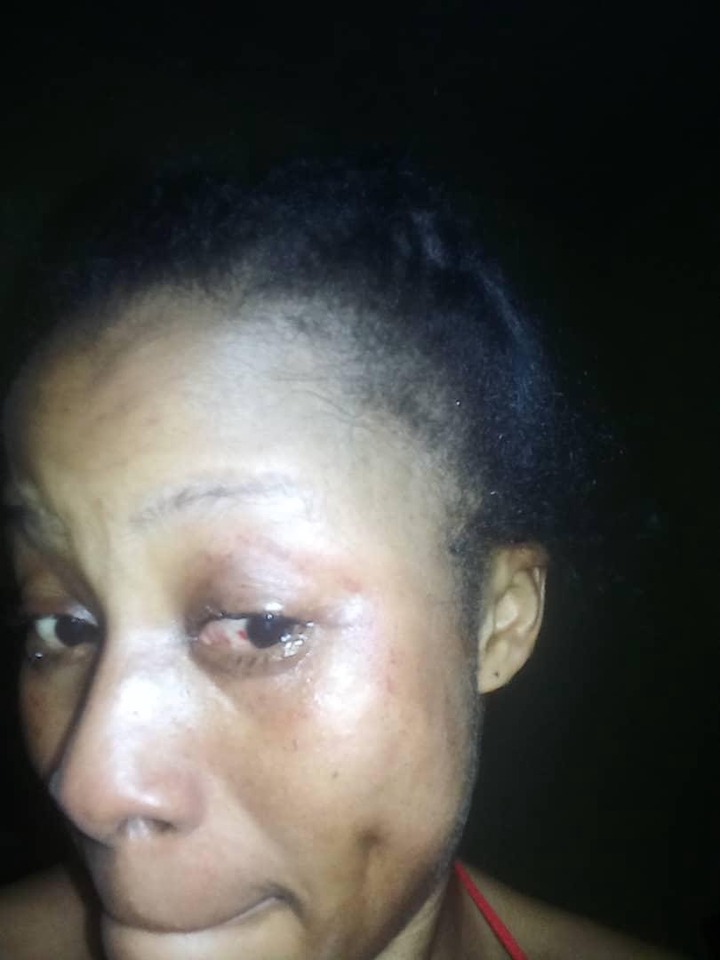 "She called me at about 10.30pm on the 29th of May 2019 and kept me on line till 3.15am (30th May).
Her husband had been beating her since 3pm the previous day and she had run out to hide in an uncompleted building where she remained till daybreak before coming to my office.
After she ran out with her suckling baby, he locked up the house and she could only gain access back in the next morning."
These are the words of the Director of an NGO in Benin who tried to save Pharmacist Pamela, an orphan whose parents died leaving her with her 10yr old brother to cater for.
This is the tragic story of the end of Pharmacist Pamela, a young Nigerian woman who despite all odds went ahead to give herself an education, worked at odd jobs until she could save N900, 000 to open her own Pharmacy, a dream cut short when she met the man whose beating and abuse would lead to the end of her life.
Pamela had visited the office of the NGO, Sothawaca run by Ms Ronke Ojeikere, beaten and bashed with open bruises all over her body.
She told a story so grim and terrifying Ms Ojiekere was insistent on taking up her case but first she must be convinced to leave the man she called husband. A monster who took advantage of an orphan and turned her into a slave.
Trouble started in the barely 2 year union when he learned she had saved up N900, 000 before the marriage to open a Pharmacy. He quickly convinced her to loan 'them' the money for which he would build a business for both of them.
The Orphan girl who wanted a family so much gave him all of her life's savings which he quickly frittered away on frivolities.
When she started asking for her money after realizing it was all but gone, the beast came to fore. He itemized a list of what she was using in the house and was paying for with the money. This included water used to bath her baby, the baby's food, her room, her 10yr-old brother's room, etc. Then the nightmare began. He would beat her ceaselessly for hours. For food, he gave her N500 a day and she learnt to make soup and food using Gino Onion/Pepper sachets and sachet oil. She began to cower in fear at the very sight of the man who promised to replace the love her parents showered on her when she still had them. Her husband became her nightmare.
The NGO wasted no time telling her to find a safer place but she did not want her child to grow up in a single parent home. The police had indeed advised her to go back home and make peace with her husband.
Yet, Pharmacist Pamela craved a home for her little daughter and against all supplications by the NGO, she went home to him but not before the NGO had taken some pictures of her battered face.
Ms Ojeikere said "I dropped her on the way back home because my father who I care for called and I had to go back home. I offered her transport money but she turned it down, saying I had done enough. Such was the humility of that girl; I had her number so I knew I could always reach her since my plan to drop her at home did not work that day"
A clearly devastated Ojekeire explained what happened after that visit:
"Pamela's message to me sometime ago!* Did she really HEAL from this?
Mummy my health is getting bad.
The heaviness and tugging sensation in my both ears is becoming worse, throbbing headache on the side of the affected eye, the c/s incision side hurts so bad and my temperature is high. I wish my baby eats normal such that anyone else can feed her, I would have gone to be admitted in the hospital so I can get a thorough eye and ear examinations, and maybe an abdominal scan. Am just down!"
The NGO had indeed kept track on Pamela and felt all was well when she announced the cheerful news that she was opening her own pharmacy at last, on her Facebook page.
However, when her radar went blank again for a while, Ms Ojeikere called her line to find out how she was doing and heard the most chilling news ever! Pamela was dead.
This is how she captured hearing the dreadful news on her Facebook page, Sothawaca Benin City. The moment she heard a sobbing male voice on the phone informing her that the young woman he battered for so long was dead.
"Pamela was ill for JUST ONE Day according to her husband! She didn't give you the chance to look after her!
No, Pamela started being ill from the very 1st Day you turned her into your punching Bag! She did everything to make you happy so that her Daughter, your Daughter could have a peaceful HOME!
You were UNREPENTANT about hitting her; UNREPENTANT about causing her pains: Physical, Emotional, Financial etc.
Now, Pamela is DEAD! Yes, DEAD gone FOREVER. Now, you weep like a BABY. Now, you want to care for her. A chance you had but you blew.
Live with your GUILT! Pamela is at PEACE now. You alone know the truth of what happened! God knows and God sees.
You won't have Peace Mr Husband. God will judge you at the end of TIME.
Rest in perfect peace my dear Pharm-P!"
Ms Ojiekere laments that after her call, the husband deleted Pamela's Whatsapp and switched off her phone.
The sad reality of the Nigerian situation is that cases of domestic violence are stifled and don't get reported.
While the police incidents the reports, they are hardly pursued as we see in Pamela's case, the abused partners are sent home to go patch their marriage.
While hospitals take detailed statistics of domestic abuse, most abused victims, especially females shield their husbands and would instead say they had a domestic accident or fell down.
Many times the abuser accompanies the victim to the hospital and stands with her as the concerned spouse, making sure his crime is not properly documented.
According to doctors, some of the injuries obtained from this kind of violence may later manifest in fatality. Sometimes it may even take several months, especially head injuries.
It is sad that as domestic violence increases in Nigeria, with nationwide increase from 21% to 30% documented cases, victims still return to their abusers because there is no alternative, no shelter for abused women, men and children, some because of religious and cultural beliefs and many because of love, love which proves to be fatal in the end.