Unbelievable: A village in USA that will surprise you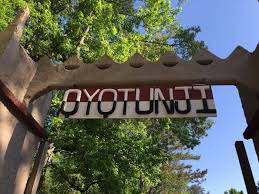 In a world where notable African traditions and cultures are fast facing erosion from different spheres, Yoruba culture which is predominantly found today in South Western Nigerian states, some part of Benin Republic, Gambia, Togo, Bahia in Brazil etc. in the diaspora, it is a thing of joy and surprise to see a village growing in South Carolina of the United States of America which in all respect is analogous to a typical traditional Yoruba city-states in modern day Nigeria.
Oyotunji African Village is a village located geographically near Sheldon, Beaufort County, South Carolina and was founded by the late Oba Efuntola Oseijeman Adelabu Adefunmi I in 1970, but culturally and spiritually, this village is located in Yoruba land, this is a village that can be termed a "twenty-first century village with an eighteenth century outlook" and it looks like a mini version of the Old Oyo Empire.
From it's name; "Oyo-tunji", "Oyo has rises again" or "Oyo returns" is a wonderland every Yoruba must know about, the village which currently has up to 300 permanent residents is being led by Oba Adejuyigbe Adefunmi, the son of the late Oba and under him some modernization steps have been made to reposition the village as a tourist center for anyone who wish to have a feel of the pure Yoruba culture.
Oyotunji have overtime created a working and brotherly relationship with Yoruba kingdoms in Nigeria following a bold step by Oba Adefunmi I to be initiated to the Ifa priesthood in August of 1972 by the Oluwo of Ijeun in Abeokuta, Nigeria and also by the order of Ooni Okunade Sijuwade Olubuse II who ordered that Oba Adefunmi I be coroneted in 1981 which truly left the mark that Oyotunji has been accepted by the Yoruba nation. It has been gathered that Oyotunji has managed to send some delegates to Oyo several times most especially for the annual Sango Festival of Alaafin Lamidi Adeyemi Oladigbolu (Iku baba yeye).
Truly Oyo has risen again, this is a clarion and daunting call to all Yoruba indigenes to uphold the Yoruba culture, if it is easy for Oyotunji in faraway USA, then it should be super-easy for the Yoruba kingdoms in Nigeria.