Man insists Obasanjo is from Anambra and not Owu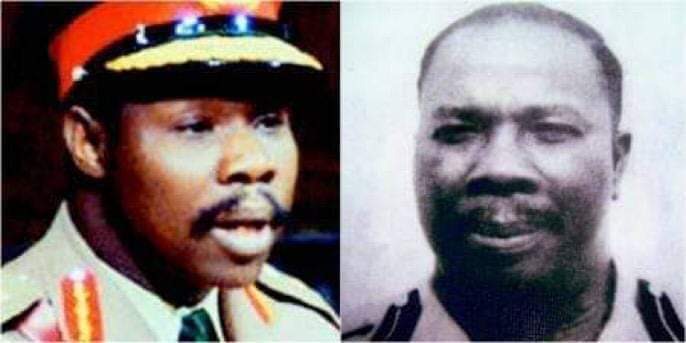 A middle age man, Damilade Abdul Oladele, has insisted that the former head of State and President, Chief Olusegun Obasanjo is a native of Onitsha in Anambra State, and not from Owu in Ogun State.
Damilade wrote on his Facebook page that the resemblance between the Igwe Onyejekwe of Onitsha, and the former President is too sticking.
Igwe Onyejekwe was reported to have lived in Owu in Ogun State, as a police officer around the time the former President was born.
According to Damilade, he wrote: "The resemblance is striking, Igwe Onyejekwe of Onitsha that ruled from 1962- 1970"
"He lived in Abeokuta for years before being recalled home to be made King"
"He also lived in Owu, at the time Olusegun Obasanjo (OBJ) was born, but Obasanjo has debunked that he was born by this late Igbo King of Onitsha"
"Obi Onyejekwe was a policeman in Owu in the early 1940's and Obasanjo's mother was a live-in concubine"
"Obasanjo refused DNA tests with Obi's kids"
"Where did Obasanjo comes from, Anambra or Owu in Ogun State?"
Apart from Damilade, another social media user John Okooboh also posited that it is indisputable that Obasanjo is from Anambra State.
John posted: "This is not contestable. Photographs don't lie. DNA or not, even a blind man can identify and confirm that the men we are seeing here is a natural re-procreation of the other"
"All circumstances, coincidences and dates are enough to support and authenticate this breaking story"
"Aside Damilola Abdul-Akeem Ololade's post here, a popular news magazine – THE NEWS had sometimes ago published a story that also featured and analyzed same topic and concluded in their final journalistic imvestigations that this General is of the lgbo extraction and not that of the Yoruba"
"The concerned has never come up to debunk it, best still sue the paper for slander or defermation or both in a court of competent jurisdiction for redress, considering the weighty social and damaging implications associated"
"The OWUS have even gone a step further by asking the General to show the people the grave of his late father where he was buried at Ow u or elsewhere"
"Alas mute is the loudest response from him"
"Refusing a DNA test is the final confirmation of the truth and there should no doubt that this man OBJ' s family name is ONYEJEKWE"
This controversy has been in the public for domain for some times.
The story resurfaced after Chief Obasanjo was quoted saying that Igbos are ahead of every other tribes in Nigeria, a statement that many read several meanings into. it is now left for the for the former President to clear the air over this matter.