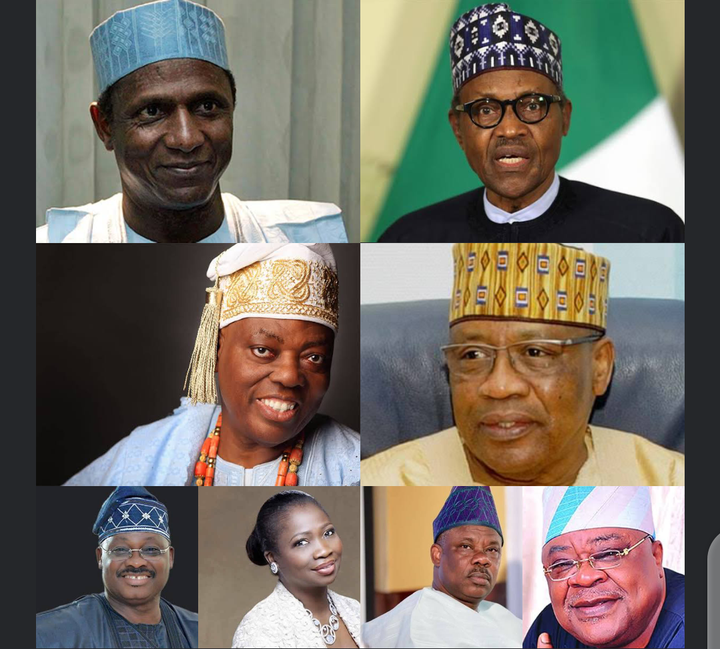 A popular Yoruba saying gives a narration about how the wealthy only make friends with fellow wealthy people while the masses also form their own congregation, this is perhaps the best way to explain this piece.
Writer, Kayode Badmus delivers a narrative on how Nigeria's powerful and famous are extending their friendship across generations.
Muhammed Indimi and General Ibrahim Babangida
Billionaire business magnate, Muhammed Indimi is one of the richest Nigerians. He is the owner of Oriental Energy Resources, an oil exploration and production company which is Nigeria's second largest indigenous oil and gas producer according to Forbes. One thing that however stands Indimi out is his ability to roll with the powers that be.
Since the 80s when he started amassing his wealth, Indimi may have mentally noted that one of the ways to sustain his growth is to wine and dine with the high and mighty, and what better way can you achieve this other than have these powers that be become family. Thus, very little people were surprised when Indimi's eldest daughter, Rahma Yakolo's hand was given out in marriage to Mohammed Babangida, eldest son of Nigeria's former military president, Ibrahim Babangida.
Although the marriage packed up years later after four children, both elderly men remain friends and have decided to accept fate over their children's failed union.
Muhammed Indimi and President Muhammadu Buhari
As explained above, Muhammed Indimi is a smart man who knows when to make capitalist moves. Following the emergence of President Muhammadu Buhari in 2015 after defeating erstwhile President, Goodluck Jonathan, Indimi again made power moves and before anyone could say 'BUBU', he had also secured the hands of the president's daughter for his son.
Before our very eyes, Ahmed Indimi married Buhari's most popular daughter, Zahra in an elaborate ceremony which was well attended by the powers that be in the land. So Muhammed Indimi is not just a former in-law to the former head of state, he is actually an in-law of the sitting President.
Muhammed Indimi and Abubakar Yar'Adua
In what the Indimis are gradually being known for, it was little surprise when in 2018, news filtered around that Muhammed Indimi's youngest daughter was set to be married. In no time, the groom to be became public knowledge and he turned out to be yet another member of the Nigeria's up north powerful clique. Hauwa Indimi married Mohammed Yar'Adua, son of late NNPC managing director, Abubakar Yar'Adua.
Furthermore, Indimi is also inlaws with some other prominent Nigerian personalities including the late Bashir Dalhatu, former minister of Power and Steel whose son, Mohammed is married to Ameena who used to run her father's Oriental Energy Resources.
Another Indimi daughter, Adama also dated music star, Dbanj but the relationship packed up before they could make any decency of it.
Governor Ibikunle Amosu and Hon. Abike Dabiri
Hon. Abike Dabiri is the Special Assistant on Diaspora Affairs to President Muhammedu Buhari, she is also a former member of the Federal House of Representatives where she represented Ikorodu. A veteran broadcaster, Abike Dabiri is one of the most influential women in Nigeria. However, she is also an in-law to the immediate past governor of Ogun state, Ibikunle Amosu who is back in the Nigerian Senate 12 years after he left to contest for Governor. Both Dabiri and Amosu are members of the ruling All Progressives Congress.
In July 2017, their children, Ayomide Amosun and Dipo Dabiri-Erewa got married at an elaborate event in Abeokuta which had the Vice President Yemi Osinbajo, former President Olusegun Obasanjo, Senate President Bukola Saraki and several state governors in attendance.
Governor Abiola Ajimobi and Governor Abdullahi Ganduje
An event that had at least 22 state governors, the Vice President, wife of the President and the APC National leader, Asiwaju Bola Ahmed Tinubu is not one that can be described in whispers and that was the situation when the Kano State Governor, Abdullahi Ganduje gave out the hand of his daughter, Fatima in marriage to Idris, the only son of immediate past Governor of Oyo state, Isiaka Abiola Ajimobi.
As expected of such magnitude of event which involved two sitting governors, the wedding ceremony which held in Kano and Ibadan remains one of the classiest events in recent times.
Bola Shagaya and Vice President Yemi Osinbajo
Hajia Bola Shagaya is one of the richest women in Africa. With interests in oil, banking, real estate and multimedia, she is one of the few female billionaires the continent can boast of. Her claim to fame and affluence however, has been her ability to hobnob with the powers that be. From the days of her friendship with Aisha Babangida, Hajia Shagaya has remained in the corridors of power befriending the first family apparently for business gains. During the tenure of former president, Goodluck Jonathan, Hajia Shagaya was known as one of the most influential women in the country due to her closeness to the seat of power. However, at the ouster of GEJ, Hajia Shagaya would reemerge as a dependable ally of the new ruling party, APC.
Just like his mum, Seun Bakare would also warm his way into the heart of Damilola, the daughter of Vice President Yemi Osinbajo and the rest is history. Today Bola Shagaya is an in-law to the Vice President.
Rasaq Okoya and Governor Alao Akala
Rasaq Okoya is one of Nigeria's wealthiest men and this affluence of his has been quite consistent. The billionaire industrialist is the founder and chairman of Eleganza Group of Companies as he also remains one of the biggest society rockers with top musicians at his beck and call. Well, here goes the crux of this story, Okoya is also in-laws with Christopher Adebayo Alao-Akala, former Governor of Oyo state. In April 2014 (precisely the Easter Sunday of that year), Alao-Akala's first son Olamiju walked down the aisle with the daughter of Rasaq Okoya, Hadiza who is a product of her father's short-lived romance with her Liberian mum.
Late President Umar Musa Yar'Adua and Governors Ibrahim Shema, Isa Yuguda & Usman Seidu Dakingari
The late Umar Musa Yar'Adua is no doubt an MVP when it comes to chosing influential in-laws. Not even the death of the late president stopped this trend as another daughter joined her two other siblings to marry yet another sitting governor years after his death. Yes, you read that right, late President Umar Musa Yar'Adua has three daughters who got married to sitting governors.
Nafisa Yar'Adua is married to the former Governor of Bauchi state, Isa Yuguda while her other sister, Zainab is married to the former Kebbi State Governor, Usman Saidu Dakingari. The eldest of the trio, Maryam about four years after their father's demise also got married to the then sitting governor of Katsina state, Ibrahim Shehu Shema.
Hajia Turai Yar'Adua who would always be remembered for her infamous cabal during the health travails of her husband is no doubt a power connoisseur. Herself a former first lady of Katsina state before becoming the first lady of Nigeria, Turai remains a force to be reckoned with these calibre of in-laws.