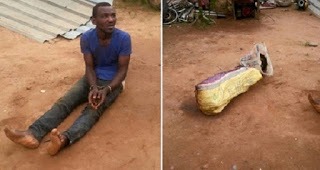 The Lagos State Police Command has ar­rested a white garment prophet, Adedoyin Oyekan, for allegedly beheading a seven-year-old boy, Kazeem Rafiu and burying his head at his church alter in Ikorodu area of the state.
Spokesperson of the State Police Command, Olarinde Famous-Cole, said the sus­pect was arrested alongside an accomplice identified as Eric at Ikorodu. He disclosed that the arrest of Eric and his confession led to the arrest of the pastor and the recovery of the boy's body.
He said, "On investiga­tion, one of the suspects, Eric confessed to the crime. He led a team of policemen to Odokekere/ Odogunyan in Ikorodu area to apprehend Oyekan, who later led the team to where the seven-year-old boy was beheaded and his head buried.
"They hid the body in­side canal. The two suspects involved have been arrested and the body and the head of the boy were brought to the station.
"Investigation has com­menced and the case would be transferred to the State Criminal Investigation and Intelligence Department (SCIID), Panti, Yaba, Lagos." The crime was commit­ted at 16, Apata Abo Street, Odokekere, Odogunyan area of Ikorodu.
Eric, who was said to be a friend to the victim's family, allegedly stole the boy around 11.am on Wednesday, after his father left him in his care.
The suspect later took the boy to the pastor's church where they beheaded and buried him between 2.am and 4.am on Thursday.
When the victim's father came back to take his son, Eric claimed he had sent him home.
God will surely expose all the fake pastors.