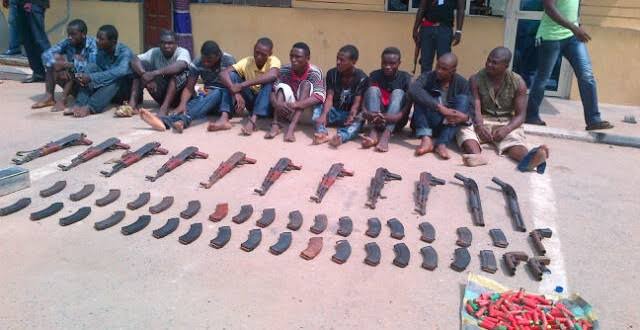 After receiving reports of a syndicated bank robbery, the following people were arrested on the 5th of December Ahmed Abdullahi, Adebanjo Bamidele, Johnson Ojo and Mathew Olagoke.
The Ogun State Commissioner, Mr. Kenneth Ebrimson disclosed how he arrested an armed robbery syndicate involving a bank manager and a dismissed soldier before they carried out their plan of robbing a bank in Ekiti.
The suspects were paraded at the police headquarters in Abeokuta, the Ogun State Capital on Tuesday after their failed robbery attempt. It was gathered that the suspect were in cohort with the bank it question to aid a smooth operation.
The Police boss disclosed that after getting an intel, men of the IGP-STS unit swung into action to intercept and arrest the robbers who were dressed in military uniforms and armed to the teeth. Items discovered from the robbers include charms, locally made short-guns, ATM cards, live cartridges, seven mobile phones and military uniforms.
One of the suspects revealed that the bank manager contacted the robbers and gave them information about some amount of money that is yet to be deposited into the bank vault. The conspiracy to rob the bank also involved six other bank officials.
The other major suspect who is a dismissed soldier identified as Emmanuel was given N100,000 by the bank manager to acquire more guns for the operation.
The suspects were arrested by the police on crimes bordering armed robbery, conspiracy, murder and kidnapping while the police commissioner assured residents of adequate security during the Yuletide season.