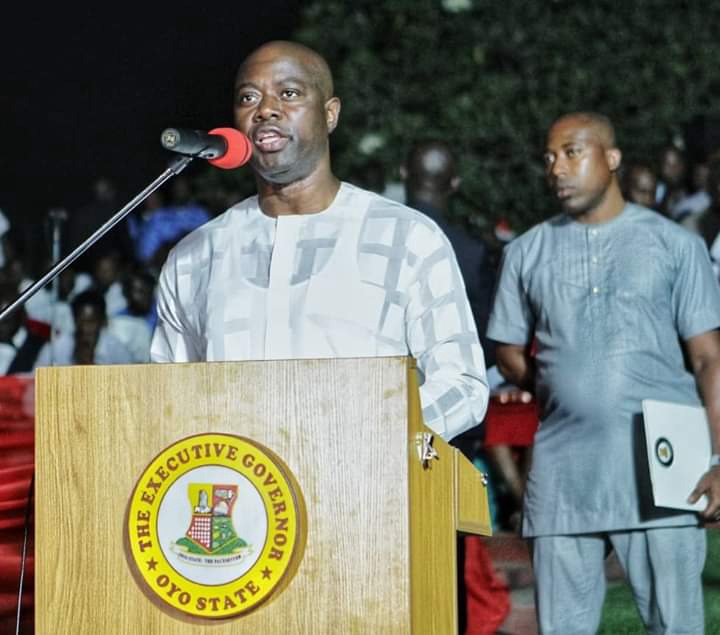 The call on the Governor of Oyo State, Engr. Seyi Makinde to join the 2023 Presidential race, has continue to grow because of his popularity and his promising style of leadership.
Makinde, in majority of polls done online and requests offline, fits in as the next President of Nigeria.
The call is due to his style of leadership, by bringing openness, transparency and simplicity into governance.
Makinde, haven taken over as the Governor of Oyo State, is strictly following all his promises during campaign. He did not allow external influence to derail or distract his strides. Even though his closest rival, Mr. Bayo Adelabu took him to tribunal, up to the Supreme Court, where Makinde won.
His popularity amongst Nigerians keeps soaring on a daily basis, because of how he is modernizing Oyo State.
Makinde, announced early payment of civil servant salary, and even assured them of prompt payment of 13th months. He said, he is not in government to enrich himself but to serve the good people of Oyo and leave a long lasting legacy that generations to come will hear about.
He brought hope, pride, glamour and relief to the people of Oyo, with the beautiful ambience around the State during the Yuletide season. His focus for Oyo is on how to expand the economy through Agriculture and other ventures.
Makinde, who met almost empty treasury without making noise about it, has continued to pay salaries of civil servants without any default, promised to keep sustaining the momentum.
He has turned around the IGR of the State from about N500b to over N2billion monthly, the figure he said is too infinitesimal, that he would work very hard to up the figure to over N20billlion without over taxing the good people of Oyo State.
Makinde is already putting all that is needed in place to support the growth of Oyo Economy. Recently, he has made awards of roads contracts, signed Anti Corruption bill into law, prudently asked all his appointees including himself to keep using their personal cars and other resources to cut cost.
Nigerians have the belief that if such a man like Makinde can take over government at the Presidential level, they will enjoy dividend of democracy.
When Buhari came into power in 2015, Nigerians thought that a Messiah has come, because of all his campaign promises, despite the known fact that he was a military dictator, but his style of leadership after taking over power as a civilian, proved that he has not changed from his old ways, and he is not even making any attempt to appease Nigerians by amending his tight fist pattern of government.
Nigerians are now gasping for breath, looking for a way out due to how hard the badly damaged the economy has become.
The record of human right violations has continued to surge under Buhari, world super powers like the UK and America are keeping their eyes on Nigeria over this matter. Under Buhari, disregard for the rule of law is common practice by himself and his appointees, who constantly justifies his actions.
Experience is the best teacher of life. By the end of Makinde's first four year, he will be appraised again, to know the level of his achievement via a vis his promises. This will further confirm how much more, Nigerians will demand for him to run for President.
However, Makinde himself is not even saying If he will run again for Oyo State governor in 2023 or will be willing to take a higher responsibility. His party, Peoples Democratic Party (PDP), has not finalized which of the zones the ticket should go to, but public opinions will also matter on which of the candidates or which zones should produce President in the 2023 election.
Already, there are various names propping up in relation to the 2023 Presidential election, amongst them are, Seyi Makinde, Bola Tinubu, Peter Obi, Nasir Elrufai, Kayode Fayemi, Babatunde Raji Fashola, Atiku Abubakar, Yabagi Sani, Yele Sowore and few others.
There still rumor in town that Buhari is also nursing the ambition to extend his tenure beyond the limit permitted by the constitution, although, he has denied and promised to abide by the constitution.
2023 looks far but very near, the candidate that will emerge as President must be popular, loved by the people, and must be able to convince Nigerians that he or she can bring respite to them, because they have been severely bruised by those who have been ruling since the return to democracy in 1999.