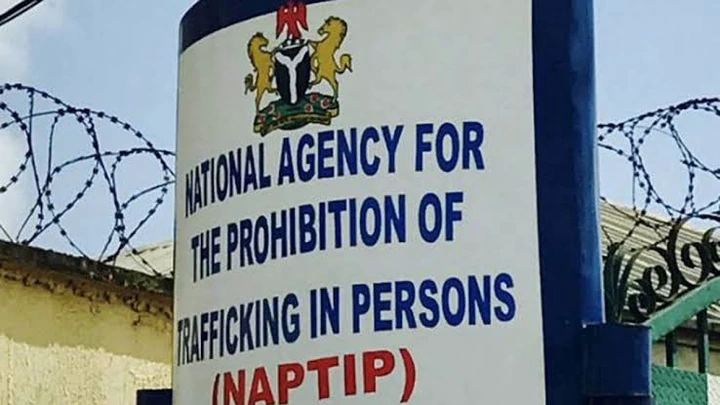 A 32-year-old mother of two identified simply as Busola has been arrested by operatives of the National Agency for the Prohibition of Trafficking in Persons (NAPTIP), for allegedly luring homeless girls from churches into prostitution.
The suspect who goes to churches with claims of providing accommodation for the homeless, convinces the churches to allow the girls stay with her before allegedly initiating them into prostitution.
Busola was accused of sending out the girls to different brothels in Lagos and also collecting the money they made from sleeping with men. The suspect was busted after a NAPTIP decoy team was deployed to Oshodi area of Lagos state after receiving information about her activities.
NAPTIP's state Zonal Head, Mr. Daniel Atokolo who confirmed the arrest said;
"She lied to the girls that she was keeping the money for them. After we were done with our underground investigation, we arrested her. She was arrested in her house and there were four girls in her apartment.
"The suspect goes to churches to tell pastors that she wanted to help some of the girls having accommodation problems. It is because these pastors believed in her and were deceived by the way she presented herself that they attended to her.
"Some of these pastors had no reason to doubt her. Unknown to them, she was using the girls for prostitution. One of the girls rescued in her apartment is an underage. What the suspect is doing is modern slavery. Aside from the four girls we found in her apartment, she still has others working for her. There was even a time the suspect forced one of the girls to have sex with her boyfriend."
Confessing to the sad act, Busola said she was introduced into prostitution by a friend whose name she gave as Kabirat. She further disclosed that she took the decision of becoming a commercial sex worker after her husband travelled to Malaysia, abandoning her and their two children and remarrying in the Asian country.
Busola said;
"I was arrested on December 12. It was when I got to NAPTIP's office that I knew my offence. It was true I took the girls from churches. Two of the girls were already into prostitution before they came to stay with me. I didn't collect their money from them."
On how she forced one of the girls identified as Abigail into prostitution, the mother of two said;
"I met her when I was working in a restaurant. After I left there, we departed but she later located and begged me that her aunt had sent her away from home. She said that she had nowhere to sleep, that was why I accommodated her. She promised to return to her village in Ekiti State. But after a while, she refused to return to her village. While we were still on the issue, I met Abigail, the girl from the church. I got to know her when I went for seclusion in a Celestial Church. The owner of the church sent her away for disrespecting her. When I was through with my prayer, there was a woman in the area where the church was located called Iya-Anu. She begged me that I should allow Abigail to stay with me. I eventually allowed her.
"It is true I beat Abigail and forced her to have sex with my boyfriend. On the fateful day, I was sleeping in the room with Abigail when my boyfriend came. He said he wanted to make love to me, I told him it wouldn't be possible because I was menstruating. Abigail was with me in the room when my boyfriend came. I told my boyfriend that I wouldn't be able to do what he asked. He then said that if I couldn't do it, I should allow my sister to do it. When I called Abigail for him, I didn't know what he discussed with her. What I later saw with Abigail was money, which I believed was from my boyfriend. While their discussion was going on, I had earlier left the room for them. It is also true that I'm a prostitute. I went into it in order to take care of my two children after their father abandoned us. I have tried several businesses, but none worked."
Busola also disclosed that she took up a job at a restaurant as her herbs business was not giving her enough money.
She said;
"It was while I was working in the restaurant that I met a woman who took me to a party. It was at the party that I met Kabirat. Kabirat told me to quit working at the restaurant and go with her to Ajah. She said that I would make cool money without stress. That was how I quit the restaurant job and went to Ajah.
"When I got to Ajah, I didn't like the place she asked me to start hustling. We later left the place and went to Obalende, where we stand by roadside, waiting for men to call us. My colleagues wear skimpy dress, but I only wear trousers, because I was not happy doing that sort of work.
"I always think of my children sleeping at home alone. I was also tutored on how to handle customers and the various prices to charge them. The charges for short time are different from full night and the guy must wear a condom. After working a while at Obalende, I took ill. I stopped the prostitution work and went back to selling herbs. After I got better, I returned to Obalende to continue with prostitution."
Atokolo disclosed that the suspect will be charged to court after investigation has been concluded.