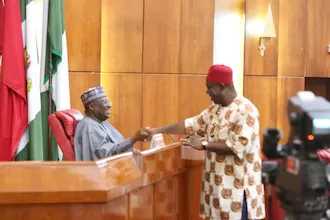 The Nigerian Senate on Wednesday, December 11, asked the federal government to start paying stipends to unemployed Nigerians until such persons secure employment.
The upper House made the statement when deliberating on a motion raised by Senator Ike Ekweremadu, who complained about the large number of Nigerian graduates who are unemployed.
The lawmaker warned that the high unemployment rate in Nigeria could pose serious consequences for the country in the future.
"A situation where every graduate has to queue up for job only in government offices is an indication of the breakdown of the private sector, which is the major driver of world economies," Ekweremadu said.
"These energies and potential talents that are lying idle and wasting away are usually misdirected toward many unprofitable and harmful ventures and lifestyles.
He said unemployment poses major challenged in every society such as high rate of crime and the upsurge in Rural-Urban migration.
Similarly, Senator Smart Adeyemi said unemployment is an issue that should be taken seriously.
Another lawmaker, Biodun Olujimi said unemployment in the country can be partly blamed on the fact that Nigerians have moved away from agriculture.
"Nobody wants to go back to the farm. Even those on the farm are just nominal farmers. That is not sufficient," she said
"We must declare an emergency on unemployment. The emergency is as good as being declared now."
Following the deliberations, the Senate urged the federal government to initiate programmes that would provide employment for unemployed graduates/youth at all tiers of government and initiate a sustainable unemployment fund for the payment of living stipends to unemployed Nigerians until such persons secure employment.
Meanwhile, a survey report by Enhancing Financial Innovation and Access (EFInA) has shown that over 100 million Nigerians earn less than N700 per day.
The survey report is titled: "Assessment of Women's Financial Inclusion in Nigeria, December 2019.″ Part of the report stated:
"Approximately half of the Nigerian population earns less than N700 per day. Nigeria has the largest number of peop|e living in extreme poverty in the world.