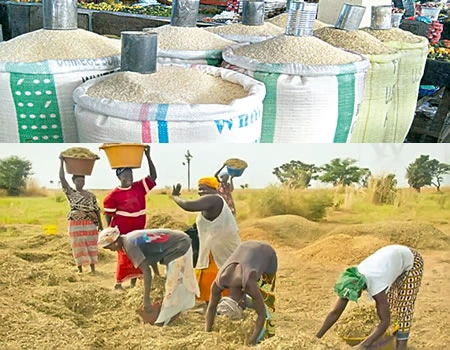 Nigerians in Diaspora Organisation (NIDO) has entered into partnership with Ino Inc, Japan and Kanryu Industry Co Ltd, also in Japan to produce a compact rice milling plant basically for smallholder farmers in the rural areas.
Professor Emenike Ejiogu, president of NIDO Asia, the umbrella organisation of the Nigerians in diaspora in the whole of Asia, said they approached the Japanese companies to produce a compact rice milling so that local farmers can enjoy technology.
He said the brain behind the rice modular milling machine was that local farmers experience difficulties in accessing the services of large scale rice milling machines, hence, they can form cooperatives and acquire the modular milling plant.
"One of the cardinal projects that NIDO Asia has taken up is agriculture, there are other projects, but the occasion today is to introduce a technology that can help Nigeria in self sufficiency.
"So, within our contact in Asia, especially in Japan, we were able to interact with a very old company that has been producing rice processing machine, then we asked them if it is possible to develop a compact machine that can mill rice, so that our local rice producers that are no so big can benefit from the rice processing technology in Japan.
"So, we were able to get them to modify their machine to suit our environment such that smallholder farmers would be able to process rice so that the age of foreign rice would be gone, so that is the nature of the partnership with this Japanese company.
"There are very big rice milling plants in Nigeria and once in a while, they may not serve the need of the small scale farmers, and therefore we came up with this modular idea," he said.
He said in the long term, they plan to commence local manufacturing of the rice milling machine, if not 100 per cent, but 90 per cent so that when the Japanese go, Nigeria can take ownership and domesticate the rice milling machine.
"Our long term plan is to also be able to manufacture the machines locally in fact in the next 18 to 24 months we are going to increase the local content of the machine.
"So, definitely, this is a machine that is going to be affordable because of what we have in place. We will still partner with the Japanese company, but in the end we want this technology to be transferred to Nigeria in terms of increasing the local content.
"It is something we want to be sustained and domesticated, not just to bring it and sell to Nigerians and run away, that's why we are taking our time, training local engineers so that by the time the Japanese go, we would have people that would maintain the machines, operate the machines and repair it, and subsequently we will be able to increase the local content so that we can manufacture, if not 100 per cent, but at least 90 per cent."
"One modular of the machine mills 110kg per hour, so if you want to increase capacity, you will now increase the number of machines, but definitely, the machine is affordable and and you have the advantage that it is modular and increase the capacity at any time", Professor Ejiogu added.
Hajiya Hadiza Umar, the President National Council for Women Society (NCWS), Federal Capital Territory (FCT) while commending the technology, called on the Federal Capital Territory Authority (FCTA) to assist women farmer in the FCT to acquire the machine, which they (women) would pay back at a subsidized rate.
"It is convenient for our farmers to use because we started this initiative sometimes this year. It is a very old initiative because the women use the machine, they can operate it, it is economical.
"So, the local woman or the local farmer can use this, foreign rice would be no more if our farmers can use this machine, the difference between the foreign rice and local rice is polishing, this machine polishes and dis-stone.
"The local women may fine it difficult to acquire the machine, the small scale farmer with two or three hectares may not be able to afford this machine.
"I want to use this opportunity to plead on behalf of the women in agriculture in the FCT for the FCTA to aid the local women and through grouping them and buy the machine for them which they would pay back later at a subsidized rate", she added.
The Chairman Nigeria Chambers of Commerce and Industry Japan Ochade Osekwe said because of the closure of border and the high cost of rice locally, it became pertinent that they introduce this machine to assist local rice processors.
"Every year, we come to Nigeria, each time we come, we articulate what to do to help move Nigeria ahead, in this last one, we worked in agriculture. We had our board meeting and decided we would work seriously in agriculture because of the situation we are facing in Nigeria now, rice is getting very expensive and the government closed the border, so let's make life easy for our people, so we went back home, had meetings with our counterparts, then we agreed to introduce this modular rice processing machine to ease things for Nigerians", he said.
On the affordability of the machine, Osekwe said "if you look at the machine very well, you will see it is skeleton, the one we are bringing into Nigeria is slightly different from the once in Asia, the ones in Asia are more expensive, so we removed some cosmetics around the machine in order to bring down the price. So if two or three cooperative groups meet, they can contribute money together and get about three of the machines depending on the size of their farm, so it is very affordable".