Lagos Pastor captured by Police as church 'activities' get exposed
Pastor Joseph Ojo, has been reportedly arrested for allegedly using his Blessing of Goodness Healing Church, in the Ijegun area of Lagos as a 'rehabilitation centre' for the mentally deranged.
12 allegedly ill people, who were chained in a dilapidated building close to his church, were rescued when men of the Lagos State Police Command stormed the church's premises on Wednesday following a tip-off by Samuel Adam, the president of a non-government organisation, Eagle Crime Awareness and Prevention Initiative.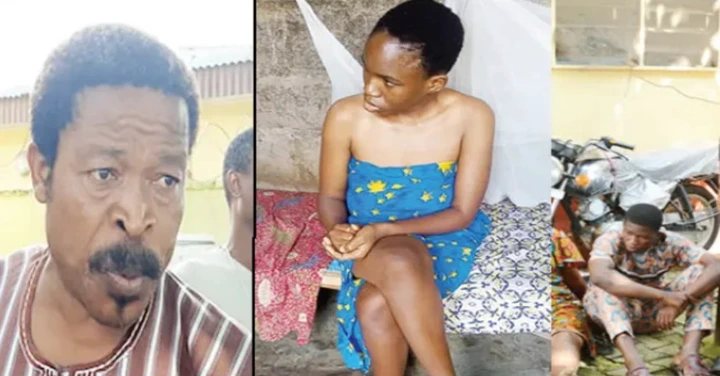 No fewer than four victims were seen in chains in the dilapidated building and Pastor Ojo, while speaking to a correspondent of Punch NG, said the victims were chained because of their condition, adding that their parents brought them to the church for healing.
"The people are chained because of their condition. If I did not chain them, they will run.
Many of them have put me into trouble and that is why I do chain them, but when I see that they are okay, I will loosen the chains. I have loosened the chains on those, who are healed but the ones who are still in chains are not yet healed." he said.
One of the victims, Adewale Adetana, said he was allegedly kidnapped and brought to the church, adding that he was not happy staying in the church.
"One early morning, they kidnapped me from where I was sleeping and took me to the church and I have been staying there since then till the police came to pack everybody from the church."
The Oyo State indigene continued by claiming he was not happy staying in the church because he had his own life to live.
"I'm just here, I can't live my normal life and do what I want to do, I can do normal day-to-day activities, so how can I be happy staying there?"
When contacted, the Police Public Relations Officer, Bala Elkana, said the command had commenced an investigation into the case, adding that 12 victims had been rescued from the church. "We have rescued 12 victims so far. They are 15 victims in number, but three couldn't move when we got there. We are bringing the remaining three. Some of them were chained. We have commenced an investigation."